Pulitzer prize-winning rapper, Kendrick Lamar has been spotted severally with his film crew at several spots in Accra, Ghana. Locals and the internet alike are excited at seeing more public appearances of the very private and elusive artist. Lamar, after a four-year hiatus, just last week released his first album in what seemed like centuries to fans, titled 'Mr. Morale and the Big Steppers.'
Fans have been given a glimpse of Kendrick Lamar, both online and offline more times in the last week since he arrived the Gold Coast, than in the last four years, especially off a stage.
The Compton emcee has been attempting to reconnect with the Motherland, frolicking with the locals of Accra at Beaches, lounges, etc. as if he is not currently occupying all the top 18 spots on the Spotify chart and 10 spots on the Genius.com charts.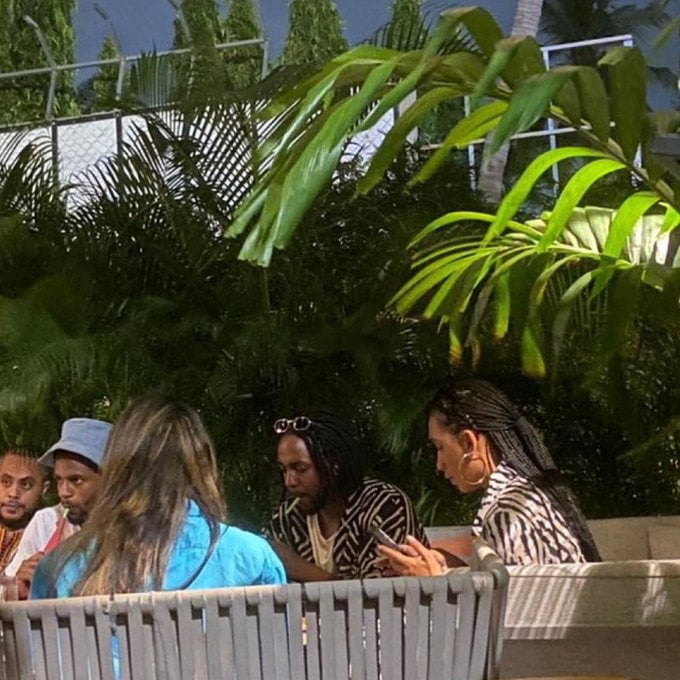 Lamar his wife, Whitney Alford, and the PgLang crew were spotted at, Freedom Skate park (a brainchild of the late Virgil Abloh), and at the beachfront where the American artist engaged in a friendly soccer game with the locals.
The rapper, in partnership with Spotify, was seen using the local Ghanaian public minibus taxis popularly called "Trotros," to commute and take his music to the streets of Accra.
He also had a meeting with the Director of the Diaspora Affairs Office of the President of Ghana who hailed the rapper for making the trip.
The Diaspora Affairs Office of the President said Lamar's trip to Ghana recognized the importance of arts, culture, music, and the global diaspora engaging with Ghana.
She also went on to say, "This visit is significant because we want the Global African and Afro Descendant family to recognize Ghana as the gateway to the 'motherland' or 'the Black Mecca' where one can reignite their passions, inspirations and connect with people; where one can launch an album, a book, an exhibition, a culinary experience … To Kendrick Lamar, his beautiful family, his team and friends, and to our Diaspora we say Akwaaba!" the Facebook post read.
If you enjoyed reading this article, do not hesitate to drop a like and share with friends via all social media platforms.