There is something about vulnerability in art, especially when canvassed in a way that elicits a catharsis of empathy and not sympathy from the intended audience. Mohammed Ismail Sherif Kweku Frimpong of Konongo, Ghana, effortlessly embodies the stories of the Ghetto youth in The Gold Coast and uses anywhere a camera exists and a microphone can be mounted, to spray paint this collage of emotions telling his story and consequently the stories of many African youths living under fight or flight conditions; having to deal with the consequences of their decisions when their localities did not offer them much of a choice in the first place, good or bad, they keep traveling the African concrete jungle like Kweku himself.
The gospel according to Kweku Frimpong is deeply rooted in truth and relatability; his truth…whether one wants to hear it or not, he tells his unconventional truth.
The 20-year-old street preacher got into the limelight after recruiting self-acclaimed African Giant, Nigerian Afro-Fusion superstar Burna Boy for the remix of his highly acclaimed single, 'Second Sermon,' to much critical and commercial acclaim both at home and in the Mecca of African music; Nigeria.
His videos display the demeanor of a regular street thug and his lyrics show that he is more than what is presented on the surface. Blacko toys between introspection and aggression. The angering passion hanging in his voice, especially on the higher notes when slapped on to the very relatable lyrics such as, "of course, I fucked up, who never fuck up hands in the air?" from 'Kwaku the Traveller.'Baring himself to the virtual jury on the internet; becomes sugar to the ears.
The above-quoted line has diagnosed sonic diabetes to millions of Tik Tokers all around West Africa and beyond, 'The Sherif' is fast becoming Ghana's next big export, the journey started with breaking into the Nigerian market.
The passion of Blacko goes beyond his vocal cavity and pen, Kweku also brings his pain to his performances, the videos show undaunted facial expressions with every syllable uttered, accompanied by bulging neck and forehead veins, a synthetic downpour at his Tik Tok famous 3 Music Awards performance.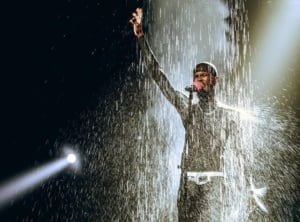 Blacko's story has always been the backdrop for his sonic direction, although he does predominantly drill music, the melodies are freshly hiplife inspired and doused in Twi parlance, the lyrics telling stories of his journey.
His vulnerability shines through in the fact that one would confuse his "street escapades" for the glorification of gang culture, but the line, "I really lost my way" in 'Second Sermon,' nuances that thought. Kweku Frimpong chose the streets, the streets did not choose him. Son of a wealthy Car Tyre dealer living in Greece, Kweku fell to the ways of the streets, mistakes not unlike some other average young African males out there.
This is reminiscent of the TDE Hiipower revolution code when Kendrick Lamar posited his own translation of Tupac Shakur's THUG LIFE Philosophy with the words, " this is a gangster story but a gangster with a difference, a gangster with a conscience.' In Black Sherif's case, it's a gangster with self-awareness and empathy as "rest in peace Aunty Mariam;' and 'Aunty Marie, this be the life I dey live for here,' can be heard on 'Second Sermon.'
The former is an ode to his cousin, the 18-year-old WASS student killed by a speeding Taxi on November 28, 2018., while the latter is the artist giving a situational report of his lifestyle in Accra to his Mother living in Athens, Greece. A rooted but troubled soul, telling his story through dirty camera lenses and grimy lyrics. 'Coming through like a raging storm.' This is the 'Gospel According to Blacko.'
If you enjoyed reading this article, do not hesitate to drop a like and share with friends via all social media platforms.