This is not a drill; Kenyan rap group Wakadinali has finally dropped the highly anticipated "Sikutambui" video. If you know anything about Kenyan drill, you recognise them as best in the game.
The trio comprises a slick Scar Mkadinali, hard-hitting Domani Munga and laid-back Sewersydaa. The group took over the airwaves with their hit songs, putting the Kenyan drill on the map. Wakadinali are among the most popular rap groups in East Africa thanks to their consistent releases and raw style. They also don't believe in artist censorship or creative control by corporates.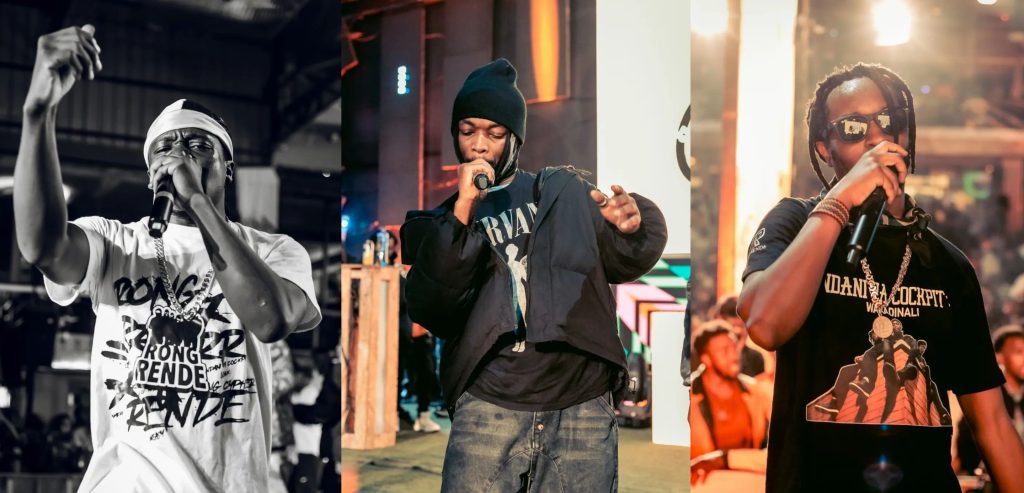 Wakadinali affiliates with the streets under the name Rong Rende. The collective comprises producers, directors, visual artists and other rap artists. The group works together to push and establish the brand.
Rong Rende refers to a group you don't want to mess with in sheng. They have continuously worked hard to make Wakadinali a household name and one of Kenya's best rap groups.
Wakadinali's ZozaNation
With humble beginnings as underground artists, the trio dreamed of building an artist-friendly record label. This led them to work hard in showcasing not only their rhyme ability but also their management acumen.
They finally set up ZozaNation, their management and distribution company. The move proved successful with the signing of Dyana Cods, who established herself as one of the best female rappers in Kenya.
Sikutambui draws heavily from the street experience of Eastlands estates, where the group members hail from. With heavy sheng usage, the track highlights the experience of coming from the East.
The video brings the energetic song to life, exhibiting the group's undeniable charisma and talent. Anchored in simplicity, it focuses on their live performances to allow the audience to view the authenticity with a raw and unfiltered aesthetic.
The video is quickly gaining traction, garnering an impressive view count. This is a testament to the groups growing influence and popularity. They have solidified their position in the game and left fans highly anticipating their next project.
Wakadinali have consistently displayed their artistry and proved to be one of the country's most promising acts. They, indeed, are the beasts from the East.
Watch the video below and let us know your thoughts in the comments.