Many fans would know Ntukza from his role as a member of the legendary South African hip hop/kwaito trio Teargas, alongside Ma-E and K.O. The younger generation might know the veteran from his recent feud with former Teargas member and friend K.O. While fans have been incessantly calling for a Teargas comeback album or concert or at least a collaboration between Ntukza and K.O, the former has decided to instead put out solo work now that his name is ringing in the industry again.
Ntukza had gone on Twitter to announce an EP titled 'Shalom' to be released before the end of the year much to the excitement of his and Teargas fans.
The 'Bambelela' rapper then made a U-Turn and decided that for some reasons the project will ow be coming in early 2023, in order to fix certain things and also reach a wider audience when it drops, Ntukza hinted in a series of tweets.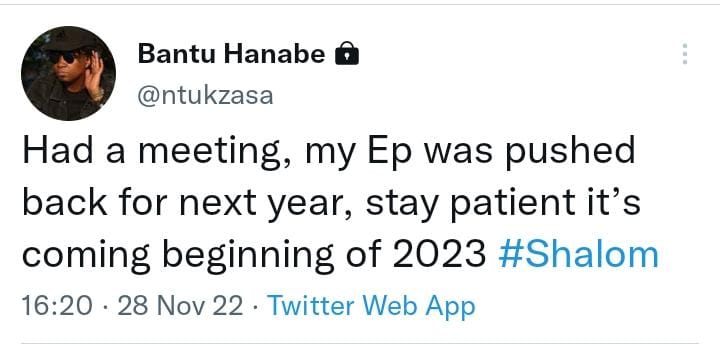 "There's quite a demand for me to release music now so I thought, I might as well without feeling any pressure. I'm always on studio anyway. Stay ready so you don't have to be ready,"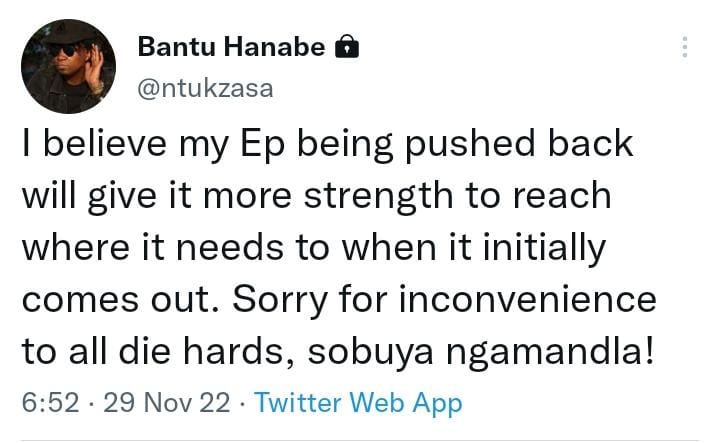 Lucas Henshaw is a versatile writer and music blogger who has written countless reviews and blog posts for several big brands. Follow his work @Lucas Henshaw on Facebook, @lucas_9ja on Twitter and @Lucas Henshaw on Linkedin.