SA hip-hop fans are known for attacking rappers they do not like and calling them 'wack' in very colorful words all over the internet.
Priddy Ugly has been in front of the barrel of that gun recently, prompting many podcasters and even his dancer wife Bontle to publicly come to his defense.
That is all internet shenanigans until an actual list of worst rappers in Mzansi hip hop history.
Certain names making the list raised brows and resulted in several rappers coming out to disclaim their inclusion on the list.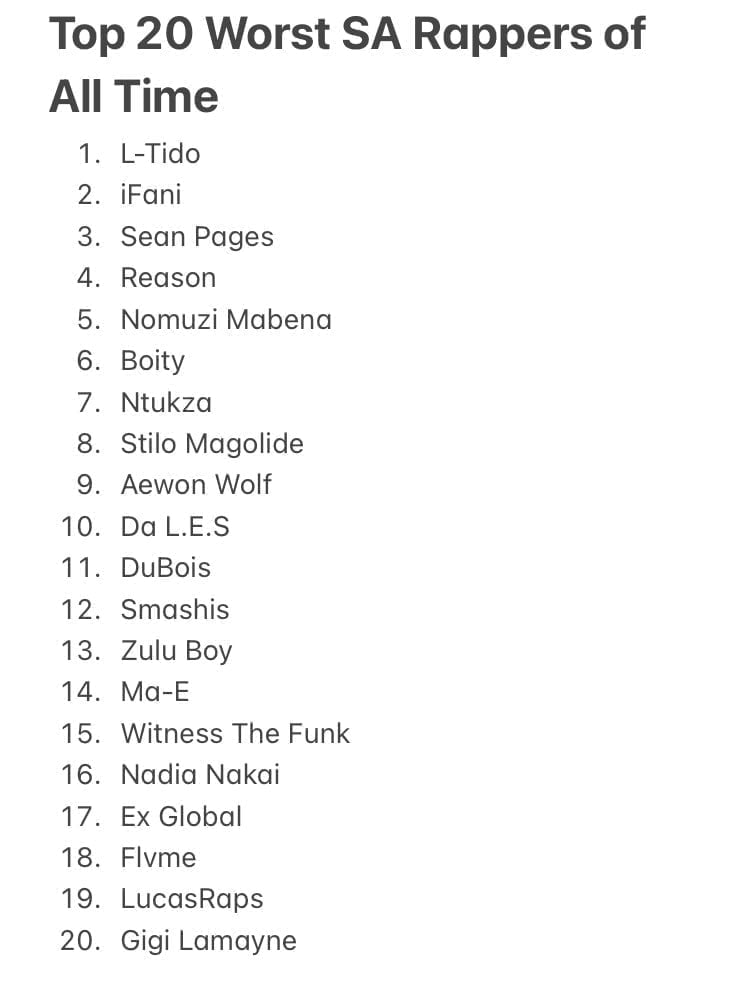 Former Teargas member and legendary rapper Ma-E took to Twitter to denounce the list, stating that he feels insulted by his inclusion on the list.
The rapper who was in Teargas with K.O and Ntukza in the early 2000s, made it known that he is one of the people who made SA hip hop fashionable in its first generation in the hood. The rapper argued that without Ntukza and him, SA hip hop would not have existed.
"The funny thing is y'all thinking this SA Hiphop would have existed without Ma-E and Ntukza being part of the 1st generation that made this genre fashionable EMAKASI! WOW THE DISRESPECT… They don't call me Ma-Ezee does it for nothing… Fede S'saba Ganda NAMANJE." Tweeted Ma-E.
"Fede bo Ndade hare yena pele, #NamanjeAndForeverEver EP pre-order is live with the lead single #NAMANJE Ay'khale!!!" the legend also tweeted, announcing his new song,leading to his Namanje EP.
Another shocking name on the list was former Motif Records rapper Reason, now known as Sizwe Alakine. The rapper who is now an Amapiano artist as placed on the list at number 4, just above former MTVBase VJ, Nomoozlie. This had fans tongues wagging and coming to his defence all over Twitter.
Reason eas signed by Stogie in the early 2010s to Motif and the rapper churned out bar heavy hits that made him internationally known for his pengame and his hit song 'Do It Like I Can' which earned him comparisons with American rapper Lupe Fiasco.
Reason has been called a failed rapper by fans for years and he failed to replicate the success of debut album and early years in the game in subsequent career efforts, and eventually switched to Amapiano.
Who do you think deserved and did not deserve to be on the list?
If you enjoyed reading this article do not hesitate to share with friends via all social media platforms.