Tiara Subban, professionally known as SAUWCY is a 26 year old Indian female rapper, singer and songwriter from South Africa. Sauwcy has taken the music industry by storm and her take on music is, above all, Raw & Unapologetic. Her presence and aggressive approach in rap and smooth sultry delivery on trap soul has attracted a diverse crowd and is rapidly becoming and undeniable force within the female rap game, moving swiftly in her own lane. Her career debuted in 2020 when she released a joint project with her long time friend Moneybadoo titled MK-ULTRA which had hit singles like "Lil Bih" featuring platinum selling artist Blxckie which catapulted the duo to becoming a street cult favourite in Johannesburg and cemented them within the industry.
"I've always said I'm not a one dimensional artist and this EP is a clear depiction of that both sonically and visually."

SAUWCY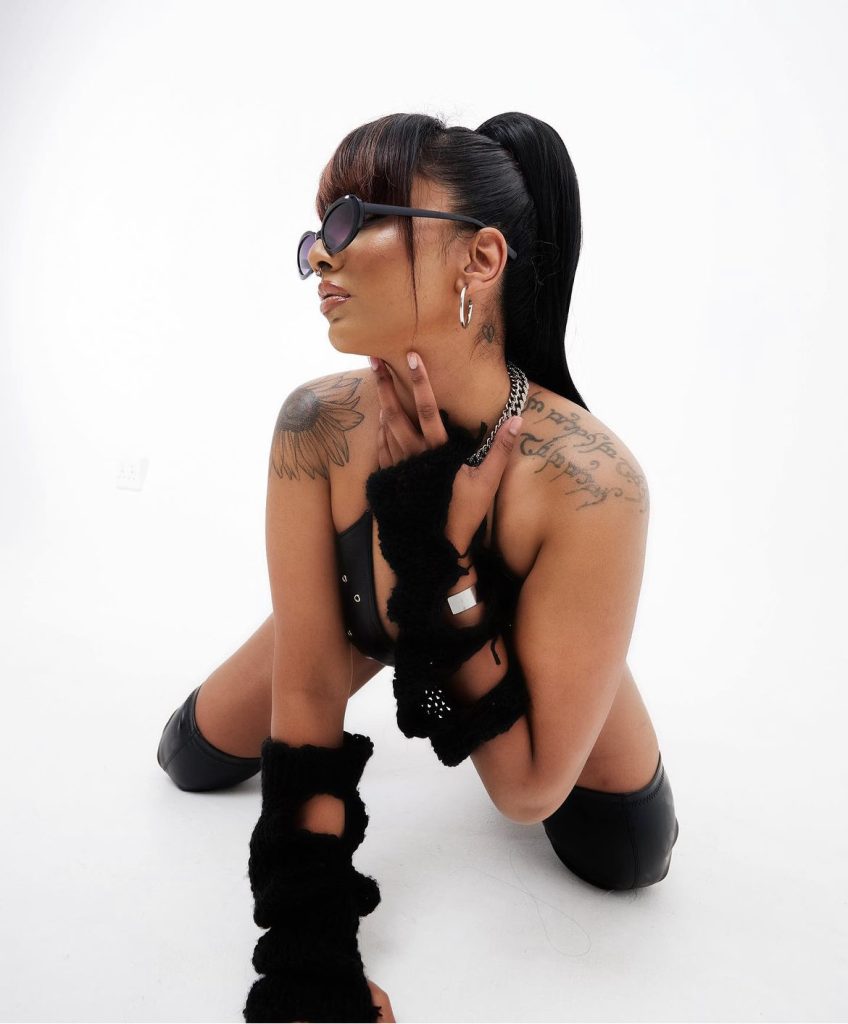 Sauwcy is back and better and now on a completely solo path with an EP called "Welcome To The Sauwce Pot." The EP was inspired by the urge to show off everything she is musically, from being very well known in the "Trap" space as the HARDEST FEMALE RAPPER within the South African music industry,y this time she really wanted to put out music that represents all that she is, which is beyond just trap. The EP is also features the heavy hitters of this generation of SA music and hip hop industry starting with Roiii who's rise to fame has been from his hit record La Vida Loca from KO's Shanda World label also featuring another well known artist Rowlene who we haven't heard on a feature since her amazing work with Nasty C on the hit record SMA, the two combine their melodic powers to give you a track title "Ride My Wave," which is the lead single to the EP. The EP ends off with the remix to Sauwcy's lead single HTO and features 2 of today's best female rappers in Southern Africa, Anele Zondo who goes by her new stage name Ney The Bae and Kikky Badass who's easily Zimbabwe's number 1 hip hop artist to date.
I've tapped into a softer side on this EP and I think my range will be appreciated. This is me welcoming you into my world of sonics. Don't look for any structure, this project is all ME, unapologetically unconfined. Sort of an unleashing.

SAUWCY
This project came together quite organically, she started the process at the beginning of 2022 and had no idea where or how it was gonna go, all she knew was that she wanted to create music that gives you all of her and her capabilities. The overall message of the tape goes beyond just women empowerment or the typical girl love story but Sauwcy has taken this moment as an opportunity to preach body positivity and bring back confidence of being true to your nature to all females.
"Welcome To The Sauwce Pot" will be Sauwcy's only release for this year, possibly leading up to a full & structured body of work for next year. SAUWCY is definitely one to watch as she has begun changing the basic expectation of South African females in Hiphop.
Follow Sauwcy: