Pretoria West Born rapper has given his fans (the slimes) enough dosage of suspense for the release of the highly anticipated sequel to his debut album 'Paradise.' The album 'Paradise 2' which would serve as his third official full-length studio album was slated for a late 2021 release, with much hype from the slimes for the album, they got a mixtape instead: the commercial and critically successful, SAMAs nominated 'Today's Tragedy, Tomorrow's Memory.' Reece has released an unofficial EP to commemorate 420 titled 'The Burning Tree' since then and fans have been eagerly waiting on 'Paradise 2' since the Revenge Club Records CEO announced an "October 21" release date for a project on his birthday celebrating single 'Couldn't Have Said It Pt.3.'
The slimes just assumed that the release date referred to the day Reece would finally drop Paradise 2 and have been eagerly counting down the calendar with him on Social Media.
The announcement was made on 27 March 2022, Reece's birthday, and when it got to ten weeks to the dateline he tweeted gleefully "TEN WEEKS" on his official Twitter handle—tweeting something similar when it was three weeks to the deadline.
The buzz on social media was almost uncontainable all the way till the drop date and the project that droped was not the sequel to the debut album that just celebrated its sixth-year anniversary on the same day.
The 25-year-old rapper who in his earlier years maintained a tradition of releasing projects on the date; 'Paradise' in 2016, 'From Me To You And Only You' in 2017 and 'And I'm Only 21' in 2018- decided to bring back the cult-esque date to commemorate the sequel to the album that started it all.
Albeit the slimes did not get 'Paradise 2' for some reason best known to Reece, they were not disappointed by the seven-track EP they got instead titled 'Deadlines: Free P2.'
The album did not waste any time to start making rounds amongst Slimes and rival fans alike, although NOTA had a thing or two to say as he usually does, the majority of the reviews have been pretty positive. Commercially the album is also making some buzz as it was featured on a Spotify-sponsored advertisement board in Camp Nou during Sunday Night's Laliga game between Barcelona and Athletic Club.
Fans know exactly what to expect from an A-Reece record, great production from Mashbeatz, and superb god-level lyricism, the latter being Reece's most constant and visible strength. In recent years, however, coincidentally since Mash and Reece parted ways Baby boy has been more willing to try out new territories; from widenig his subject matter and thematic scope on 'TTTM' and working more with his Brother Jay Jody and other collaborators like Ayanda Jiya, Joey Fatts, Khuli Chana, Belo Salo, Stogie T just to mention a few. Before now one would only expect to see only A-Reece's childhood friends on his tapes as The Wrecking Crew, Rubberband Gang or whatever nomenclature they are going by at the time.
Albeit a Nasty C and Flvme feature is still missing in the vault, SA hip hop is still bunkers about Reece reuniting with former Ambitiouz Entertainment labelmate Emtee for the song 'Bigger Than Me' making it clear that their beef that has lasted since Reece left Ambitiouz has been officially squashed. This is great news for slimes as they have been begging Reece and Emtee to re-unite and recreate the magic they made on 'Couldn't' in 2016.
Musically Reece has also improved drastically, taking up a more hands-on role in the production of his music, producing or co-producing some of the joints alongside IMP the Don, Iceman Beatz, Jay Jody, and Rick Ross' producer Black Metaphor, also fancying more soulful instrumentals with minimum or more drums, acoustics and vocal sample over hi-hats laced trap joints like the rest of hip hop.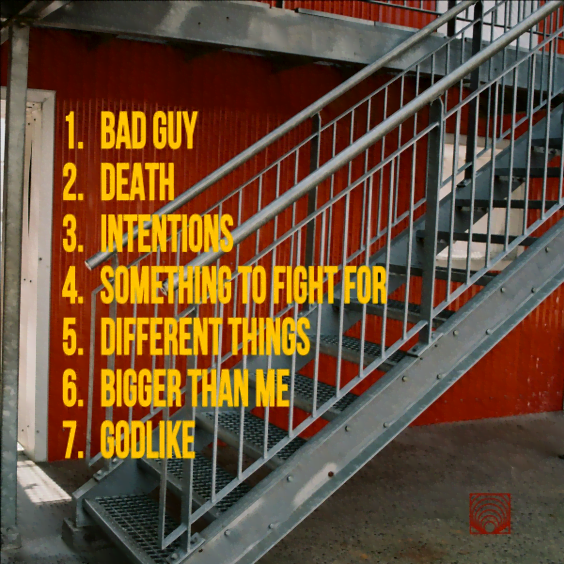 The album more like 2019's 'Reece Effect' than the last project 'TTTM' is ushered in by a spitfire intro, guns blazing with the clever pen game and 'soul talk' that has become very signature Reece in the last few years.
The intro track titled 'BAD GUY,' a reference to the subtitle of 'Paradise 2: The Big Hearted Bad Guy' is a glorious anti-hero entrance music solidifying his greatness in the game, with braggadocious lines hinting at his come up and achievements at such a young age "when I was 17 I was better than your favorites, I was 19 doing packed out stages…"
'Say goodnight to the bad guy" bridges the instant noodles long intro song produced by Michael Tuohy, Lncxln and Darez, with the more sombre 'DEATH,' a Romeo and Juliet moment where the rapper proclaims undying love for the culture of hip hop and rap. "this sh*t gon prolly be the death of me.." the Atteridgeville born emcee raps.
American rapper Drake's alleged former ghostwriter and collaborator Quentin Miller makes an appearance on the second verse tackling the lack of authenticity in hip hop in recent years in lines like 'nowadays it takes a little bit of skill and a lot of luck, it ain't about what you popping but what you popping up" and staying grounded with one's day ones through the poverty and the fame.
The next song 'INTENTIONS' is more reminiscent in production to the Mashbeatz days and unleashes the female slimes favorite 'Drake-Reece,' melodiously gliding to the beat similar to songs like 'We Both Know Better,' and 'Morning Peace,' bridging a thin line between rapping and singing a love letter to who its fair to assume is his girlfriend Rickelle Jones'. "If it was up to them it would have been over in sconds" sounds like it was ripped right out of the 2021 song 'Strictly For My B***h.'
Marcu Harvey's raspy voice and soulful backups turn the song into an enchantment in between Reece's verses without disconecting listeners from the message.
The next song I the stand out cut and most talked about song on the tape, not just the Maphorisa feature was a surprise to fans and critics but alsothe genre of the song. Reece had previously tweeted "my OG already earned y'all" referring to Phori making a tweet about the collab pruior to the tape's release.
'SOMETHING TO FIGHT FOR' is an Afrobeat song quite close in production to AKA and Nasty C's 'Lemons (Lemonade),' summer 22 is the year that rappers jump on Afrobeat and Amapiano ostensibly.
DJ Maphorisa as his artist alter-ego Madumane delivers a Sjava-esque bridge to accompany Jody's chorus about finding purpose and Reece's solid verse. The first verse is debatably the best on the tape and one of Reece's most confident deliveries and lyricism in a while., with quotable like "Fame is a hard drug to miscrodose, take it from me I would know,"they put a price on integrity, woke without a soul."
The song can serve various purposes, motivation in the gym, wisdom nuggets for the woke fiends and also a dancefloor sweethearts for the shebeens of Soweto and long drives from Cape Town to Durban, or the festivals of eGoli. Every artist on the song finds a lane and sticks to it without overlapping and yet still blending into a cocktail blend.
Dj Maphorisa and I have always wanted to create something special together. I remember this one time when I was at his crib recording songs with him he told me something that really stuck until this day. He told me I already have it in me to create quality music. I just need to experiment with it more, you know – break boundaries, explore and challenge myself.
"So every time I create a record that drifts away from the norm or what people are used to hearing me on I think of what he said and use it as motivation because I take him as my mentor. When I made " Something To Fight For " I could instantly hear him on it. I just knew it needed his direction.
I only had the hook and half of my verse done when I sent it to him for some input. He was out the country but said he'll listen to it when he has time. And man when he sent it back I was just inspired to finish off my verse immediately. He just took it to another level, switched the arrangement, added vocal backings and a bridge and gave the song life." Reece said about the song. Safe to say he achieved what he set out to do with this one.
'SOMETHING DIFFERENT' is more like an interlude leading to the highly anticipated Emtee collab 'BIGGER THAN ME.' The song doesn't have many highlights but could be a stoner's anthem and shows Reece being more confident in his singing whilst dropping a verse that could be concerned many rappers' career best, in a calm casual manner.
"The album before the ALBUM. The project comprises seven cuts. All intended to be shortlisted. No rejects from prior projects, all songs are less than a year old. The process felt synonymous to painting in front of a live audience with a time limit. Exhilarating and intense at the same time. I just think this approach takes me out of my comfort zone which is something I need as I transition into wrapping up P2," says A-Reece.
Reece shows no signs of his pen slowing down on 'BIGGER THAN ME' although he puts Emtee a little bit out of his more melodic, slower comfort zone, the African Trap Movement Pioneer and father of two with the help of autotuned channeled his inner Lil Baby and made a shortlived but memorable verse to cement his reunion with A-Reece after six yearsof beefing. The song is laced with quotable on the catchy trap beat, with underlying synths.
Both artists easted no time in appreciating each other on social media after seeing the fans praise the work they put into making the joint.
"Emtee and I finally link up after six years of highs and lows, dropping out our former label, going independent and taking on more responsibility for our own careers. Soulkit sent me a beat pack with like 8 beats on it. Before even running through the rest of the pack I was stuck on the third beat. Kept playing it for like a week just enjoying it.
Then once I knew what I want to talk about it just organically came together. The intro of the beat was a big part of the reason too. After that, it wasn't rocket science who needed to get on it – and would compliment me perfectly. I knew with the concept I had, one person who'd relate the most would be Emtee.Simply because he played a major role in my come up journey. And I also believe both our come up stories have some similarities.
So I just called him up, set up a session it's my crib and had him over after the SAMA weekend, and man, watching Emtee cook has always been a privilege. The man is a legend. It's crazy how everything came back full circle" Reece tweeted about the collab.
Sunset drives synth sample at intervals, flute-synths and 808's lay the backdrop for the perfect theme outro for this self proclaimed Supervillain shortfilm. 'don't get it twisted I still got it, its just these days it takes a lot to get it out of me' he addresses a lack of inspiration due to the stress of day to day life on 'GODLIKE.'
"Back to making music that the Grammys no longer reward." is a brave middle finger to the industry and it's standards.
"If they paint me as the devil I'm chill, cos like the devil how they spose to stop me if they think I ain't real," the big hearted bad guy bows out, ending his seven track run of solid verses, no skips, infectious hooks and chill, under a palm tree tye production. Another classic in the bag for PitoReece? time will tell, but it's definitely a solid project.
Every track save for 'INTENTIONS' has a verse that could easily be crowned the best on the entire project, a testament to a masterfully sharp pen, accompanied by increasing maturity due to the subject matter and less reliance on wordplay and metaphors for more long-lasting quotable lines.
Biggest highlight on the tap are Reece nd Maphorisa on 'SOMETHING TO FIGHT FOR' One of the very few low lights on the album, albeit Nota thinks the tap should have been made of seven 'SOMETHING TO FIGHT FORs'- is Quentin Miller's lacklustre flow and delivery on 'DEATH.'
The album is truly a prelude to 'Paradise 2′ as Reece called it " the album before the album.' From the subject matter, Paradise 2 is meant to commemorate six years of A-Reece as we know him and cement the legacy started by the debut album 'Pardaise.'
The songs center around legacy, love for the game, family, maturity and growing pains, authenticity, fighting demons, accepting his industry given role as the villain due to the long list of beefs he has been involved in throughout his career- hence the subtitle of ;the coming album… "the big hearted bad guy."
PRODUCTION: 9
LYRICISM:10
FEATURES: 10
COHESION:8
TRANSITION: 9
STRONG POINTS: Reece's writing and delivery on all songs, Maphorisa's bridge, Marcus Harvey's Hook.
WEAK POINTS: Quentin's delivery, length of Emtee's verse, Bigger Than Me Hook.
BEST/ WORST SONG: Something to Fight For/Bigger Than Me
TOTAL: 8.7/10
VERDICT: A classic if it stands the test of time, a solid project and experimental success regardless.