South African rapper A-Reece hints on dropping something for the $limes in 7 weeks. The rapper has been sending cryptic tweets with a countdown to Friday the 21st of October. A-Reece fans can draw a trendline of release dates from 2016 to date. The $lime's have a number of days for celebrating "the boy" and the movement, release dates we take a look
21 October
this is the exact date the rapper released the studio album Paradise in 2016 under Ambitious Entertainment. Over time he has hinted about releasing the second of the series. 21st of October has seen the rapper release a number of projects like From Me to you and only you (2017), And I'm Only 21(2018).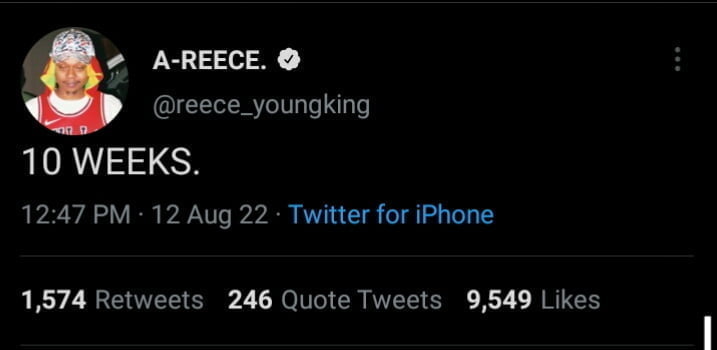 After he tweeted "10 Weeks" 3 weeks ago $limes have started clearing storage in their phones to make way for the boy. The rapper had hinted on the second of the series back in 2020 calling it Paradise 2: the big hearted bad guy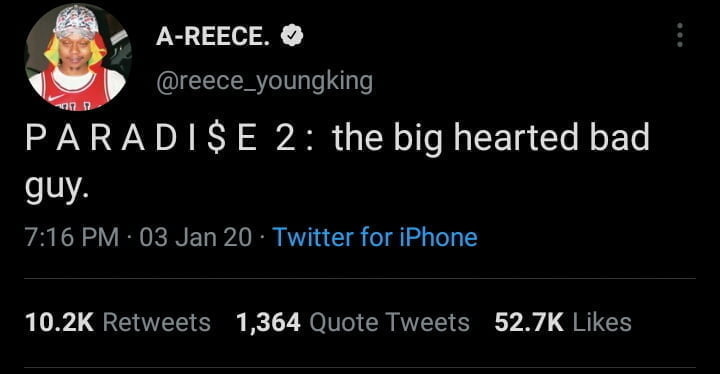 27 March
Born 27 March 1997, the rapper's birthday has always seen him drop singles and Extended plays from the Gwan Big Up Yourself series. Last year saw the rapper release a Mixtape a day before titled Today's tragedy, tomorrow's memory a day before his birthday.
20 April
(4.20) which is a day celebrated across the world by THC fans. Earlier on this year the rapper released The Burning tree with the theme set on the herb. Project features his big brother Jay Jody, 25k, longtime friend IMP that Don. During the TWC era they released the 4:20 song with then members Flvme, Ex Global, Ecco.
May 25th
This is also the day hit single Meanwhile in Honeydew views got to the 1 Million mark. It is a day celebrated in honor of the collaborative efforts by A-Reece x Ecco x Wordz on L3. L3 which stands for Long lost letters has it's concept hinged on A Letter by late iconic star Tupac.
$limes are excited and the "notification gang" will be up on the 21st waiting for the release.