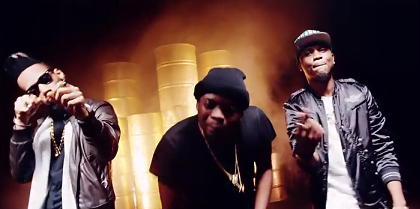 The Nigerian rap scene has experienced a lot of different phases. From being a scene full of Yankee wannabee rappers to finally finding a way to infuse Afrobeats into Hip-hop and of course finally being a beautiful sight to behold. One thing for sure is Reminisce, Olamide, and Phyno are legends.
However, during one of the many stages of its evolution, there was a time when the scene was completely filled up by rappers who infused their indigenous languages into Hip-hop to make a bop.
The Trio of Olamide, Reminisce and Phyno had the scene on total lockdown. In fact, for any rapper to score a hit it was necessary that he first had the blessings of either one of them, either by getting a verse or just having them be cool with you.
It was during that period when Olamide signed fellow young rapper, Lil Kesh, while Phyno was dominating the whole of the charts with his eastern Nigeria-infused Igbo. Reminisce on the other hand was busy scoring hits and killing both his features and collaborations.
During this period the trio scored countless hit singles that were enough to score a 5hr performance for either of them easily.
This led to the conviction that the mainstream (The more opulent) side of Hip-hop was no longer as important and obviously did not have as much followership as the street rap scene. Leading to numerous conspiracy theories about the two identical yet very different sides of the Nigerian Hip-hop scene.
Several accusations and ideas were spread all over social media, with some debating that Olamide and M.I. who was on the side of the opulent had issues and had various clashes. News that neither of them commented on.
Local Rapper
However, the whole drama was further aggravated when Olamide and Phyno linked up with Reminisce to release "Local Rapper" off his 2015 album "Baba Hafusa".
READ ALSO: DRB Lasgidi: The BluePrint For Nigeria's Alte Sound
The record became very controversial, further pushing the narrative that the rap scene in Nigeria was divided in two.
On Local Rapper, they all take their turns to explain why street rap has taken over and why mainstream, English wordplay rap is no longer highly sorted, and why they the ones considered to be local are the ones raking in the doe.
The raps, flow, lyrical delivery, and production on Local Rapper are world-class, no surprise they all went in hard and delivered their various verses. Their various braggadocious lines on the record are one to be proud of, especially because they are all very talented and could spit.
The video that followed also highlighted the lives of the street. Showing off what they came from in grand style and with galore. There has been no better way to clap back at the press and keep people talking than what the trio did.
However, the talks of their existing beef between the street rappers and the English spitting rappers soon died after Vector a mainstream rapper did a remix to his hit single "King Kong" and had Phyno and Reminisce as some of the featured stars on the remix.
Looking back at the hip-hop story in Nigeria, we can only be grateful it never got physical because the punchlines and references used to be very direct and intense.
We'd keep gunning for the top and hope that the rap scene gets back to being heated up.