'Mr. Morale and the Big Steppers,' just debuted on the Billboard Hot100 with a bang. The album is barely two weeks old and is already running the Hot 100. Many fans and critics had predicted modest sales projections for the long-awaited album. The album's units have been finally collated by Billboard and the results are staggering.
For four years, the most prevalent work of Kendrick's on the charts was his major-label debut album 'Good Kid MAAD City,' which broke Eminem's record of the highest-charting rap album of all time.
.@kendricklamar's 'good kid, m.A.A.d city' has now spent 450 weeks on the Billboard 200. It's the longest charting hip-hop studio album in history.

— chart data (@chartdata) June 16, 2021
The new album has wasted no time in scaling the charts, with lead single 'N95' leading the pack at #3 with 37.2 million streams, 942k airplay audience impressions, and 2,300 copies sold between May 13-19. This is the fifth-highest streaming tally of 2022.
'Die Hard' settled in at #5, 'Silent Hill,' and album intro 'United in Grief' settle at #7 and #8 respectively, which puts Kendrick at four entries in the Top 10, and a total of 9 entries in the Top 20. The lowest entry from the album is 'Mother I Sober' at #59. Not bad for a conscious, sonically experimental rap album.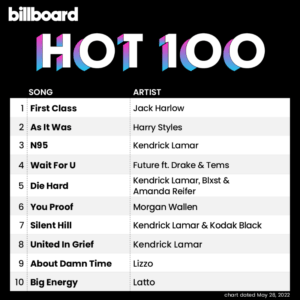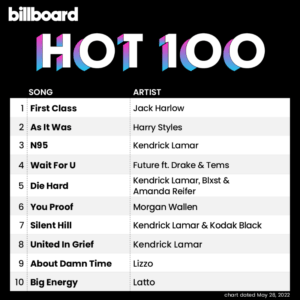 Kendrick seems ready to take over the summer, is 'N95' about to be another 'Humble', and give Lamar his second solo Hot 100 #1.
If you enjoyed reading this article, do not hesitate to share with friends via all social media platforms.