At the June Edition of The HipHop Event, The highly anticipated battle Main Event Battle Rap between Jaypachino and Fozter created a buzz within the battle rap community. Both artists brought their A-game to the stage, ready to prove their superiority through their lyrical prowess and captivating performances. The intense face-off unfolded with a series of hard-hitting verses, clever wordplay, and sharp rebuttals. Jaypachino's stage presence and delivery left an indelible impression on the audience, showcasing his ability to control the crowd's energy and keep them engaged throughout the battle. With his sharp wit and flawless execution, Jaypachino emerged victorious, solidifying his status as a formidable force in the battle rap arena. In this interview with DANIJI EMMANUEL of HIPHOP AFRICA, Japachino reveals his musical journey, exploring his passion for battle rap, his electrifying performance against Fozter, and his promising ascent in the competitive world of rap battles.
Jaypachino's victory over Fozter in the intense battle rap showdown signifies a defining moment in his career. With his captivating stage presence, razor-sharp lyrics, and relentless drive, he has proven himself as a force to be reckoned with in the battle rap arena. As Jaypachino continues to rise to new heights, his talent and determination will undoubtedly leave an indelible mark on the battle rap scene, inspiring aspiring battlers and captivating audiences with his lyrical prowess. Enjoy the interview below.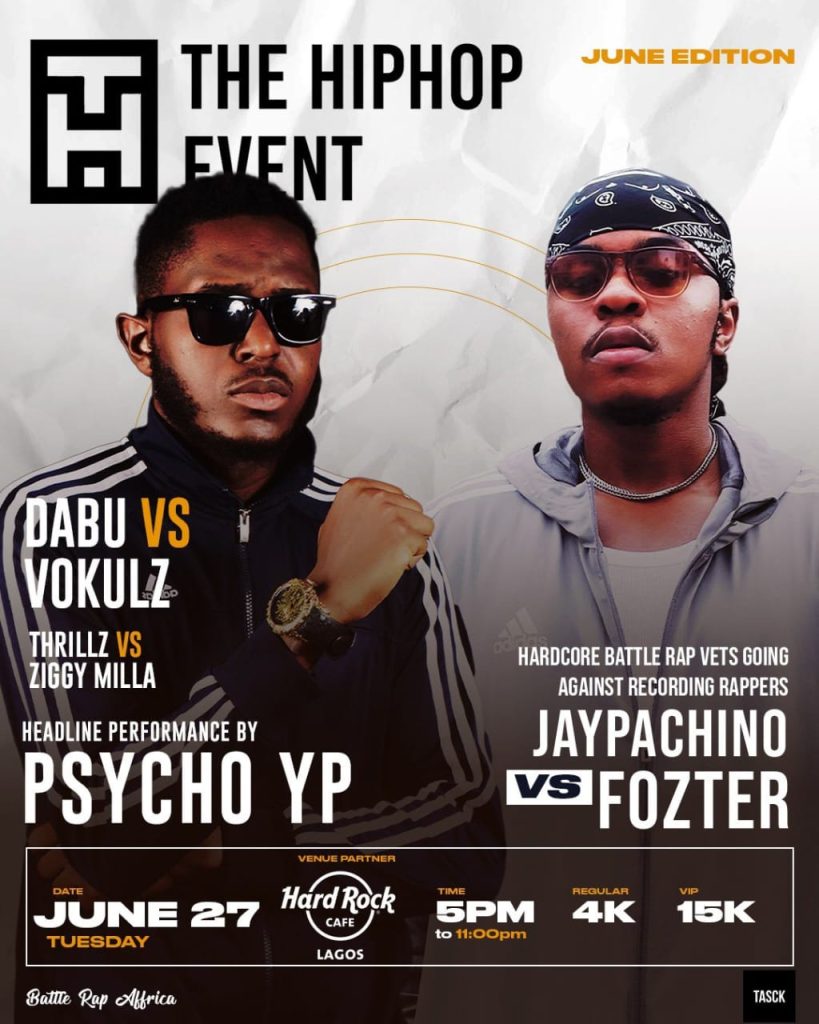 Congratulations on your recent victory against Fozter! How do you feel about your performance in the battle?
I feel great, it was an amazing night even though I didn't get to do my whole rounds but I'm glad I put out enough to do the job.
As a veteran battle rapper, what motivated you to take on Fozter as your opponent?
Well, I liked his confidence. Also, I heard he beat Spikey who is like a vet and in my class so he had to go.
Can you describe the preparation process leading up to the battle? Did you have any specific strategies in mind?
Honestly, for this battle, I had little time to prepare because I didn't think it was going to happen. Going to this battle was just like how I go to all of my battles, no strategy, just going out to let the HipHop community know bar for bar I'm in a different weight class.
What were the key factors or techniques that you believe contributed to your success in the battle?
Well, I think it's my ability to punch every bar and not talk too long to get to the point.
How do you think your experience as a battle rapper played a role in your victory over Fozter?
Well, I would say coming from a class of vets like Holyfield, Dabu the Gemini, and Daygenius and having faced competition and having my reputation on the line. I wasn't going to give room for a debatable.
Were there any particular moments during the battle that you consider to be highlights or turning points for you?
Not really because for me I always tailor every bar to have momentum.
Fozter is known for his unique style and wordplay. How did you approach countering his strengths while showcasing your own skills?
Just doing what I do best. Punching every bar.
Battle rap often involves intense wordplay and lyricism. How do you continue to innovate and stay relevant in this ever-evolving genre?
Besides battle rap, I make great music, but I try to keep up with current events once In a while.
In your opinion, what sets you apart from other battle rappers in terms of style and delivery?
I think it's my bar-for-bar punching style and how I deliver every line with panache.
Battle rap events can be emotionally charged. How do you stay focused and composed under the pressure of performing in front of an audience?
I try to block everything out even the crowd's reaction and show penmanship.
What is the most important aspect of a successful battle rap performance? Is it the delivery, punchlines, or something else entirely?
I would say it's the delivery. In battle rap, it's not about what you say, it's about how you say it. That's what separates the Vets from the rookies.
How do you handle the aftermath of a battle, both in terms of personal satisfaction and dealing with any potential controversies or criticisms that may arise?
I really don't pay attention, especially when I am satisfied with my performance.
As a veteran battle rapper, what advice would you give to aspiring artists looking to enter the battle rap scene?
I would say stay ready and true to yourself but also always try to bring something different, that will make you stand out from your peers.
Reflecting on your career as a whole, what have been some of your most memorable battles and why?
I would say the battle with Dabu the Gemini on BRL. That battle was like a clash of titans, it changed the game and raised the bar. shout out to Dabu for making it a classic.
What can your fans expect from you in the future? Are there any upcoming battles or projects that you're excited about?
I will be putting out more music and also working on "The Pachino Story 3". I also have a joint project called "Purple Trey" on the way. So fingers crossed.