Nigerian rap sensation Blaqbonez has once again captivated music lovers with the highly-anticipated release of his singles, "Like Ice Spice" and "Like Bezos." Following a viral snippet that set social media ablaze, fans have been eagerly awaiting the full tracks. With his unique style and lyrical prowess, Blaqbonez delivers an unforgettable musical experience.
The controversial mention of Ice Spice's name in Blaqbonez's "Like Ice Spice" has lived up to expectations, creating immense curiosity and sparking discussions among fans. The full song showcases Blaqbonez's ability to create infectious beats and clever wordplay, solidifying his reputation as a boundary-pushing artist. The track is a game-changer, leaving listeners in awe of Blaqbonez's talent and musical vision.
Simultaneously, "Like Bezos" lives up to the hype as another highly-anticipated track from Blaqbonez. With its intriguing title and the rapper's penchant for thought-provoking lyrics, "Like Bezos" delves into themes of success, ambition, and the pursuit of greatness. Blaqbonez's seamless blending of genres and captivating performances make "Like Bezos" a must-listen for music enthusiasts.
———————
[Blaqbonez and The Muchachos De Granja Effect On "A 2Pack EP"]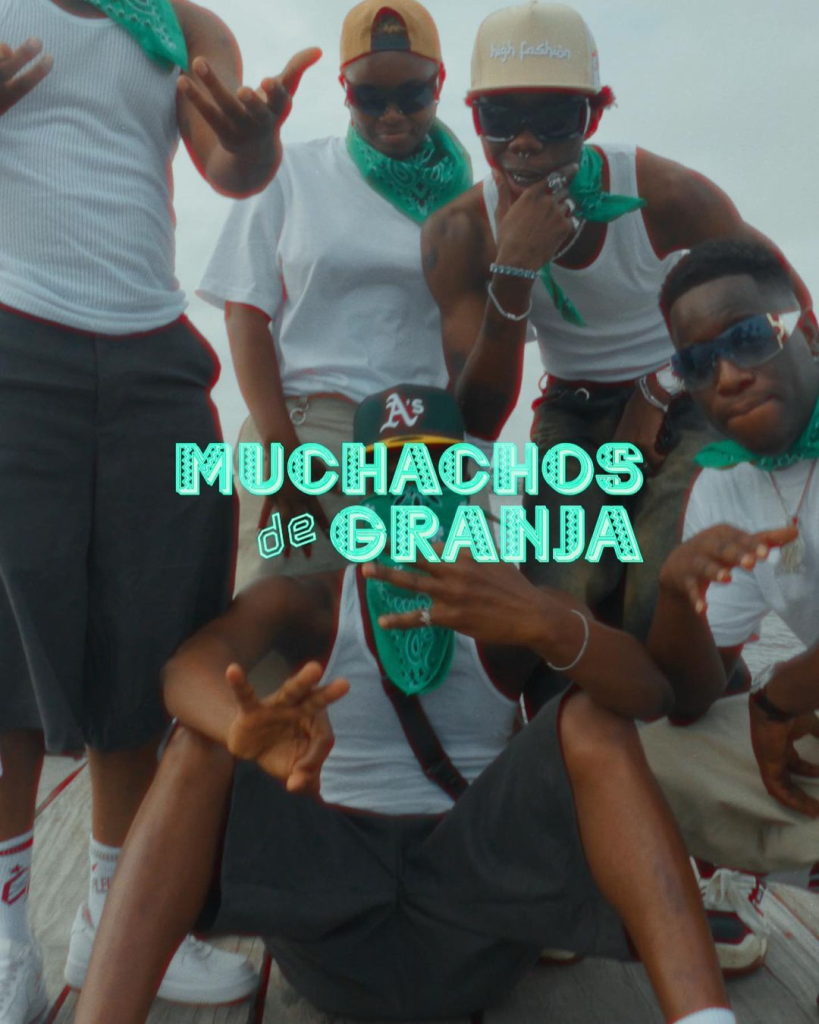 In an exciting development, Blaqbonez has not only released his highly-anticipated singles "Like Ice Spice" and "Like Bezos" but also introduced a new group called Muchachos De Granja, meaning Farm Boys in English. The Muchachos de Granja made a striking appearance in the snippets of the songs, adding an extra layer of intrigue and excitement to Blaqbonez's musical journey. Sporting white tees and green bandanas, the group brings a fresh aesthetic and a sense of camaraderie to Blaqbonez's performances.
Not only does the Muchachos de Granja have a distinctive dress code, but they have also developed a unique secret handshake and a set of captivating dance moves. The group's presence in the snippets has already sparked a frenzy of curiosity and speculation among fans, who are eager to witness the full extent of the Muchachos de Granja's contributions to Blaqbonez's musical vision. With their infectious energy and synchronized movements, the Muchachos de Granja are set to enhance the overall visual and auditory experience of Blaqbonez's performances.
In addition to delivering exceptional music, Blaqbonez's introduction of the Muchachos de Granja showcases his commitment to artistic innovation and creating a completely immersive experience for his fans. By bringing together a group of like-minded individuals with their own distinct identities, Blaqbonez further solidifies his reputation as an artist who pushes boundaries and continually seeks to captivate his audience. The collaboration between Blaqbonez and the Muchachos de Granja promises to be an exciting journey filled with memorable music, stunning visuals, and a shared sense of camaraderie among fans and artists alike.
ICYMI: "Blaqbonez Ignites Social Media with "Like Ice Spice" and Teases "Like Bezos", Fans Anticipate Releases"
————————
Blaqbonez has solidified his position as a prominent figure in the Nigerian music scene, earning accolades and a dedicated fanbase through his impressive discography. Known for his signature style and energetic stage presence, he continues to push boundaries and experiment with his music, establishing himself as an artist who consistently delivers fresh and exciting sounds.
The wait is finally over as Blaqbonez has dropped "Like Ice Spice" and "Like Bezos" to the delight of his fans. The electrifying combination of infectious beats, clever wordplay, and thought-provoking lyrics showcases the artist's growth and evolution. With these new releases, Blaqbonez dominates the airwaves once again, solidifying his position as one of Nigeria's most talented and innovative rappers.