The family of the late rapper, Kiernan AKA Forbes, has released a statement to his fans and the general public regarding his much-anticipated album, Mass Country.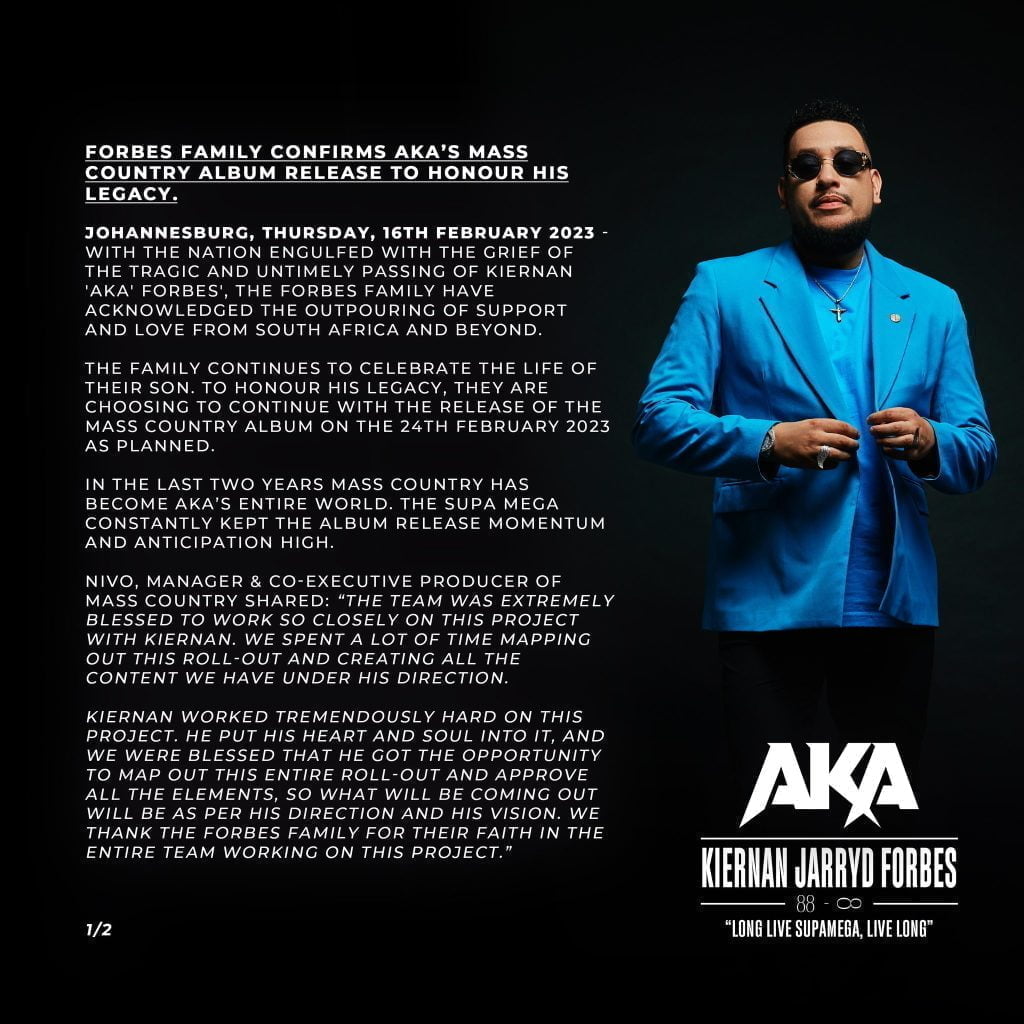 As stated in the press release, the Forbes family have decided to continue with the posthumous release of their son's album, set to go out on the 24th of February, as originally planned by the rapper and his team. Mass Country, which is to be AKA's 5th album, was highly anticipated by fans who have been eagerly waiting on the album since the initial announcement.
The rapper was shot and killed this past weekend outside of a restaurant in Durban. Along with him was tastemaker and chef, Tebello Tibz Motsoane, who also tragically lost his life on that fateful night. While many still try to register the loss, fans and supporters of AKA are still in disbelief at the tragedy.
An outpour of tributes have gone out since the news was confirmed and with those are countless speculations on how the night unfolded, what the motive may have been, and who is to be held responsible.
A known figure in the South African entertainment industry, Nota Baloyi, has spearheaded the narrative that AKA's close companions need to be questioned about what happened the night of February 10th, to clear their names and shed some light.
As many know Nota to shake the table on countless occasions, industry mates have spoken up against his behavior, calling him out on his false statements, and the danger they may bring to those closest to the late rapper.
A memorial for AKA will be held on Friday, 17 February 2023, at the Sandton Convention Center at 15:00 – a live stream of the memorial will be made available for those unable to attend. Kiernan will be laid to rest in a private provincial funeral the following day on Saturday, 18 February 2023. Limited tickets to attend the rapper's memorial were issued out to the public and have now become unavailable, however, you may still stream the proceedings on the akaworldwide YouTube page.
Fans can look forward to his latest single titled Company alongside Nigerian musician, Kiddominant set for release this Friday, 17 February. The two have previously worked together, notably on AKA's hit single, Fela In Versace from Touch My Blood.
Our hearts continue to go out to AKA's loved ones, the megacy, the country at la1rge, and beyond. Kiernan was a remarkable musician who touched many hearts with his talent and charisma. He will be sorely missed and his legacy will continue to live on through the music he left with us. Long live, Supa Mega, live long.