Clementina Mulenga (born 14 June 1989), professionally known as Cleo or Cleo Ice Queen is a Zambian-born hip-hop recording artist and television and radio, presenter. She has been a Proflight Zambia brand ambassador, and a Maximum Diva Woman Condom brand ambassador. She is best known for her role in Big Brother Africa (The chase) in 2013 and is the 2015 winner of AFRIMMA Best Female in Southern Africa, and the 2017 winner of Best Female in the SunFm Kwacha Music Awards.
Cleo got her moniker "Ice Queen" from her love of jewellery, which is known as "ice" in hip-hop slang. Cleo was also featured in the 2014 March issue of a Nigerian Magazine VL! Magazine as the cover story.
Cleo is the third of a family of 5 with two brothers and two sisters. Cleo's love for hip-hop began when she was six years old. She began her singing career when she was 11 years old, and at that age, her passion for the entertainment industry began. In Cleo's own words, she says that she wanted to be behind the microphone from the time she was 4 years old. Cleo used to perform at her own parties starting with her 4th birthday. Cleo had her first studio experience while at Banani International School where the school principal built a recording studio at the school. At the age of 16, Cleo recorded and released her first single Hands Up.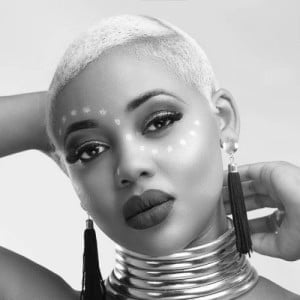 Cleo started her music career in 2011 and the following year she released a single titled "Big Dreams" which featured JK. It was a nationwide hit. Cleo was then featured in Khuli Chana's official "Tswa Daar" song remix which also featured Ice Prince, Maggz, Navio, AKA and Reason. Cleo's debut album was released in December 2016 and titled Geminice. Which has 14 songs and the theme of the album is inspired by her Gemini star sign. One part of the album has seven sentimental and lyrical songs, while the other seven songs are fun-loving and upbeat, with party anthems like the Urban Hype featured "Turn Up", "Addicted" and "Autobahn". Cleo released another single in December 2016 titled "Soldier" produced by Kekero, a melodic side of rap. In the song, she talks about the appreciation of an African man and this was Cleo's inspiration. All women have that one Soldier in their lives be it fathers, brothers, spouses, or nephews and this song is one way or another dedicated to them.
In 2013 Cleo represented Zambia during the eighth season of the Big Brother Africa reality television series, produced by Endemol for M-Net. It began on 26 May 2013, running for 91 days and ended on 25 August 2013. Cleo was in the house for 91 days and she came out as the runner-up from Dillish who won 2013's The Chase season. In 2015, SuperSport launched a football magazine show called Bola Yapa Zed focusing only on Zambian football and Cleo was chosen to be the presenter.
On 22 September 2016, Cleo was the first Zambian artist to be picked for Season 2 of Coke Studio, a music television series in Africa where artists are given the opportunity to create something new and exciting. Cleo the lady of rap, together with the lady of house music, Bucie teamed up with super producer Mr Kamera, singer-songwriter, Les-Ego and master sound engineer, Wilson. The song, "Simunye" ("We are one") was a massive hit, talking about African royalty, unity and oneness with a touch of Cleo's Zambian tongue, Nyanja and a touch of South African native tongue, Xhosa. This song shows how music has no language barriers.
On 21 May 2017 Cleo was a special guest at the official launch of the African Hip Hop Awards at Chez Intemba in Lusaka.
On January 21, 2022, Cleo took to her Instagram page to announce her welcome to Dej Jam Recordings. An excerpt from her post reads… Thank you @defjamafrica and @umgsa for welcoming me to the family 🙏🏾 let's make history, let's do amazing things . HipHop is alive!!!!
Cleo Ice Queen is Married to Kaladoshas, who is also a multi-talented artist.
Check out Cleo Ice Queen's latest Video featuring Ryan Blaze titled Mix It Up
________________________________________________
Have you found this article insightful? Then kindly share and comment your opinions in the comment section below. Thanks.
Follow On Social Media:
Instagram – https://www.instagram.com/hiphopafricaa/
Twitter – https://twitter.com/Hiphopafricaa
Email – bigdan@hiphopafrica.net