Today, one year ago South African Hip Hop lost one of it's most enigmatic and talented figures; the talented and very fashionable Rikhado Muziwendlovu Makhado, most commonly known as Riky Rick, Boss Zonke or King Kontini. The renegade rapper, songwriter, producer, music executive and entrepreneur took his own life on the 22nd of February 2022.
Riky Rick rose to super stardom with the release of his smash hit 'Boss Zonke' in 2015,which followed his debut single 'Nafukwa' which was in it's own right a minor hit. Both songs were taken off his debut studio album 'Family Values.'
However what most people don't know is that before the fame that came with 'Boss Zonke' Riky dipped his foot into the music industry in 2009 and 2010, when he dropped mixtapes such as The Comeback Kid and Last Summer with Da L.E.S.
He was also the founder and owner of record label Cotton Club Records and a member of Boyz N Bucks, a hip hop collective.
Makhado was also an entrepreneur and a music executive who gave several opportunities to many artists to shoot them into the limelight. Almost every rapper in the SA hip hop industry has a 'Riky Rick Story,' that is how much of a legacy Kontini left behind.
Most famously Makahado helped launch the career of teenage hypeman, dancer and internet sensation Uncle Vinny, when he employed Vinny to be the official hypeman at Cottonfest, the festival Makhado started to showcase the various hip hop talents in the SA industry.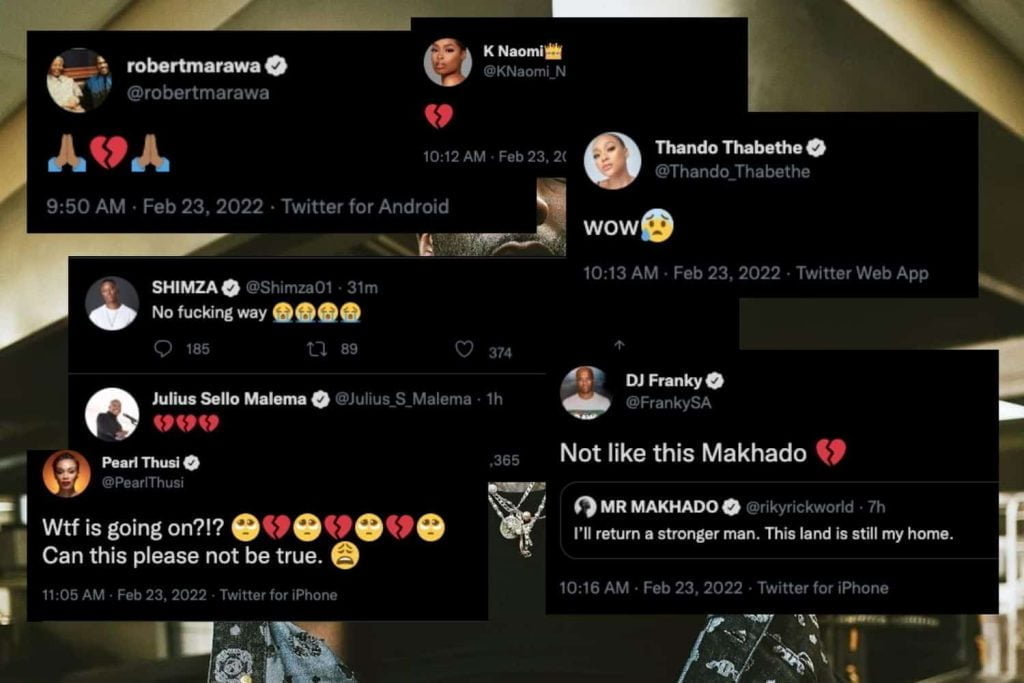 R&B and Hip Hop Singer Tshego said in a interview on the Rea & Blvck Steph Podcast that Riky Rick helped him get off drugs, Riky also called Costa Titch and gave him a free verse on a remix of his breakout single 'Nkalakatha, which went a long way in starting his music career.
Before the beef between Makhado and Cassper Nyovest, he loaned Cassper money in millions to be able to host his concert #FillupFNBStadium in 2017.
When A-Reece left Ambitiouz entertainment, brands, booking managers and artists were reluctant to work with him in order not to incur the wraath of Ambitiouz. Riky Rick helped re-launch his career after putting Reece on his song 'Pick You Up,' paid for the video and all the costumes, then performing the song with Reece at Cottonfest that year. Sinc ehtne Reece became an annual regular at Cottonfest.
Makhado left behind a wife Bianca Naidoo, son Maik Daniel, step daughter Jordan, a huge music legacy, several smash hits and a huge catalogue of classic verses and don't forget his metro FM 2016 award speech, where he urged young artists to ignore radio because of payola and focus on the internet, before being cut off.
As fans gather at Newtown, Johannesburg to celebrate the late legend today at the Cottonfest remembrance event, hip hop Africa sends our condolences and share this amazing playlist with fans of Boss Zonke.
Enjoy our Riky Rick exclusive playlist below, REST IN PEACE KING RIKY. WE NEVER DIE WE MULTIPLY.
(insert playlist)
If you enjoyed reading this article do not hesitate to share with friends via all social media platforms.