The Nigeria election is less than 40 days away and the state of the country is still "Jaga Jaga".
Eedris AbdulKareem is one of the most popular old-school artists in Nigeria who reigned in the late '90s and early '20s.
Aside from being an artiste, Eedris is known to be an activist who used his songs to tackle the Nigerian government.
Hip-hop music star, Eedris Abdulkareem is not new in the controversy game. His 'jaga jaga' songs have always landed him in trouble.
In April 2021, he was taken to the cleaner by Minister of State for Labour and Employment, Festus Keyamo for disparaging him in his new release, 'Jaga Jaga reloaded,' Abdulkareem had a running battle with former President Olusegun Obasanjo in 2004 when he first released his song 'Jaga Jaga'.
In that song, Abdulkareem sang "Nigeria jaga jaga, everything scatter scatter, poor man dey suffer suffer, Gbosa, gbosa…"
The song annoyed Obasanjo and he cursed Abdulkareem. The former president banned the song from the radio, but it continued to be played in nightclubs.
Years later in 2012, Obasanjo never forgave Abdulkareem as he attacked him again for releasing that song years back.
Speaking at an event organized by Nigeria Leadership Initiative (NLI) in 2012, Obasanjo attacked Abdulkareem again, condemning the song in the strongest term.
The former president said "one of the worst problems Nigeria is facing is disbelief. Nigerians no longer believe in themselves nor do they believe in their country.
"That takes me back to that song 'jaga jaga'. How could a sane man dare to call his country jaja jaja? It is the height of blasphemy.
"We are grooming our youths for tomorrow's leadership and with such persons, I don't think the country can move forward."
Abdulkareem in a new song, 'Letter to Obasanjo,' in 2018 attacked the former Army general.
He said Obasanjo served as a military president and also a civilian president and that he had the opportunity to correct the wrongs.
"He was selfish and wanted a third term by all means. His administration recorded too many killings and assassinations. He's very selfish and wanted to rule Nigeria forever," he had said.
Nothing much was heard of Abdulkareem until he attacked Keyamo in his new song 'Jaga Jaga reloaded.'
Abdulkareem's new song, 'jagajaga reloaded' disparaged Keyamo, saying "where Festus Keyamo sef? He don dey chop with cabal o."
An angry Keyamo took to his Twitter handle and released different private conversations he had with Abdulkareem, how he allegedly begged for money.
Artist Name: Eedris Abdulkareem
Track Title: Jaga Jaga
Recorded: 2004 Music
Country: Naija Music
Album Name: Jaga Jaga Album
The soundtrack "Jaga Jaga" was dished out by music activist Eedris Abdulkareem. This enchanting euphony was used to address some of the vices that are happening in the country of Nigeria. Trust me, the messages on this track cannot be overemphasized.
It was this joint "Jaga Jaga" that gave the legend Eedris Abdulkareem all the respect and recognition he enjoys today in the industry. Even though this song hits the politicians and ruling class directly, the veteran singer dished it out without fear or favour to anyone.
The record "Jaga Jaga" is another harmony that retains its replay value. It will ever remain evergreen especially when most of the things Eedris complained about in the song are still reoccurring after many years.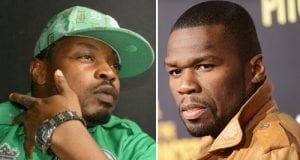 Suppose you are familiar with the Nigerian entertainment industry. In that case, you must have heard of the clash between the Veteran Nigerian Rapper, Eedris Abdulkareem and the Legendary American Rapper 50 cent in 2004.
The 2004 clash however came into the limelight again when Eedris Abdulkareem took to social media to drag Charly Boy, who was then the president of the Performing Musicians Association of Nigeria (PMAN) over the role he played during the clash in 2004.
Charly Boy had earlier described Eedris Abdulkareem as an "ungrateful son" while stating that he chased 50 Cent and his team out of Nigeria for physically assaulting Eedris Abdulkareem and was locked up by the Nigerian Police for one month on the order of the Nigerian Breweries
Responding to Charly Boy's  claim, Edris Abdulkareem called out the veteran singer in a series of posts accusing him of trying "to take the glory that belongs to him."
He also alleged that the Charly Boy "sold him out" and collected N70 million from the Nigerian Breweries to blackmail him. He further stated that Charly Boy collected the evidence of the attack by 50 Cent and G-unit from one DJ Tee who recorded everything that happened on that day.
WHAT CAUSED EEDRIS ABDULKAREEM & 50 CENT'S CLASH IN 2004
50 Cent visited Nigeria in 2004 alongside his crew headlining a four-city concert tagged 'Star Mega Jams. The concert held in Lagos, Abuja, Port Harcourt and Benin featured the then Nigeria Stars such as Daddy Showkey, Eedris Abulkareem himself,  Abass Akande Obesere, Tony Tetula and many many others.
The Concert began in Abuja on Wednesday the 3rd of December 2004 and was held at the Eagle Square ground in Garki. The show which was hosted by the Famous Gbenga Adeyinka first saw the performance of Tony One-Week, One of Nigeria's most promising singers at that time.
After Tony One-Week performance, 50 Cent and his G Unit group took to the stage to give an overwhelming performance despite the poor sound production from the woofers.
Shortly after he began his performance the crowd surged threateningly forward to touch him. While the security attempted to push the crowd back, he screamed: "Leave ma people! Let ma brothas come near!"
He further sealed the memorable night when he brought out a bundle of $50 notes and spray into the teeming crowd who scrambled to grab the notes. He did this three times at intervals spraying about $15,000 before wrapping up his performance in Abuja. He would repeat the same act during his performance in Lagos.
After 50 Cent performance, Daddy Showkey took the stage and thrilled the audience with his music and Galala style. Daddy Showkey's performance was followed by Eedris Abdul Kareem who seem to have an issue with 50 Cent  when  he grabbed the microphone, and said: "50 Cent na oga for America, me I be Oga for rap for Nigeria!"
The Concert in Abuja was closed after Abass Akande Obesere entertained the audience with his Fuji tunes.
On Friday the 3rd of December 2004, the second round of the concert was held at the Tafawa Balewa Square in Lagos State, the invited artiste gave the audience a double portion of the thrilling performance they had in Abuja until when Eedris took the stage after 50 cent's performance where he claimed he is the the 'oga of rap music in Nigeria',  the chides for scrambling for the money 50 Cent threw to the crowd. "Him dey try tell us say Nigerians na beggars? This na insult on my people.
THE CLASH BETWEEN EEDRIS ABDULKAREEM & 50 CENT
The clash however happened when Eedris Abdulkareem put up a fight with 50 Cent's crew over sitting arrangement in the Aeroplane chattered for the purpose of conveying the American rap icon to the concert venues.
According to reports, while waiting at the airport lounge minutes before he boarded the plane, he had promised that "I am going to show these people (organisers) that Nigerian artistes deserve respect."
Once onboard, he deliberately sat on the very seat reserved for 50 Cent in the first-class compartment of the aircraft insisting that "This is where I am going to sit!". The same first-class seat he bluntly declined two days earlier.
And as narrated by eyewitnesses, one thing led to the other, and a scuffle ensued between his men and those of 50 Cent. An embarrassed Eedris who had one of his thugs injured reportedly ranted: "Let us get to Port Harcourt, 50 Cent, I will show you that this is my country. I will deal with you."
50 Cent and his band had to leave the country prematurely on the advice of the American Embassy in Nigeria.
EEDRIS ABDULKAREEM KIDNEY TRANSPLANT
Recall that in 2022, Eedris was diagnosed with kidney failure and went through dialysis. His wife Yetunde later donated her kidney to him. The surgery was successful and the "Jaga Jaga" singer took to his Instagram account where he posted a picture of himself with the caption; "Thank you ALLAH for the healing and recovery. Thank you for giving me strength and good health. YA ALLAH I am grateful. Alhamdulillah Juma'at Mubarak my people."
The artiste's record label, Lakreem Entertainment Inc, had also given an update on his health in August.
His management, in a statement issued by Hon. Myke Pam, said the singer had successfully undergone a kidney transplant.
The statement read, "As the recuperation and healing process begins for both of them, with the best that science can offer, under the ever benevolent gaze of the Almighty God, surrounded by the love and care of family, we ask that the prayers and support be sustained as they gradually get back on their feet again,"
________________________________________________
Have you found this article insightful? Then kindly share and comment your opinions in the comment section below. Thanks.
Daniji Emmanuel is a content writer who has written hundreds of articles on various niches focusing on Entertainment topics. He's also published interviews, conducted research and written opinions on the creative industry. BigDan, fondly called, also consults and handles brand promotions for people and organizations in the creative industry. 
Follow On Social Media:
Instagram – https://www.instagram.com/hiphopafricaa/
Twitter – https://twitter.com/Hiphopafricaa
Email – bigdan@hiphopafrica.net