Get ready for an electrifying event in the world of hip-hop as Str8up HipHop presents The Sideh Kai Preview Throwdown, featuring the only ILL BLISS. This highly anticipated event celebrates the bonafide rap legend and model of consistency.
Save the date: July 30th. The venue of choice is Pop Haus, situated in the vibrant neighbourhood of Lekki 1. The action kicks off promptly at 5 pm, so attendees are encouraged to arrive on time and not miss a moment of the excitement.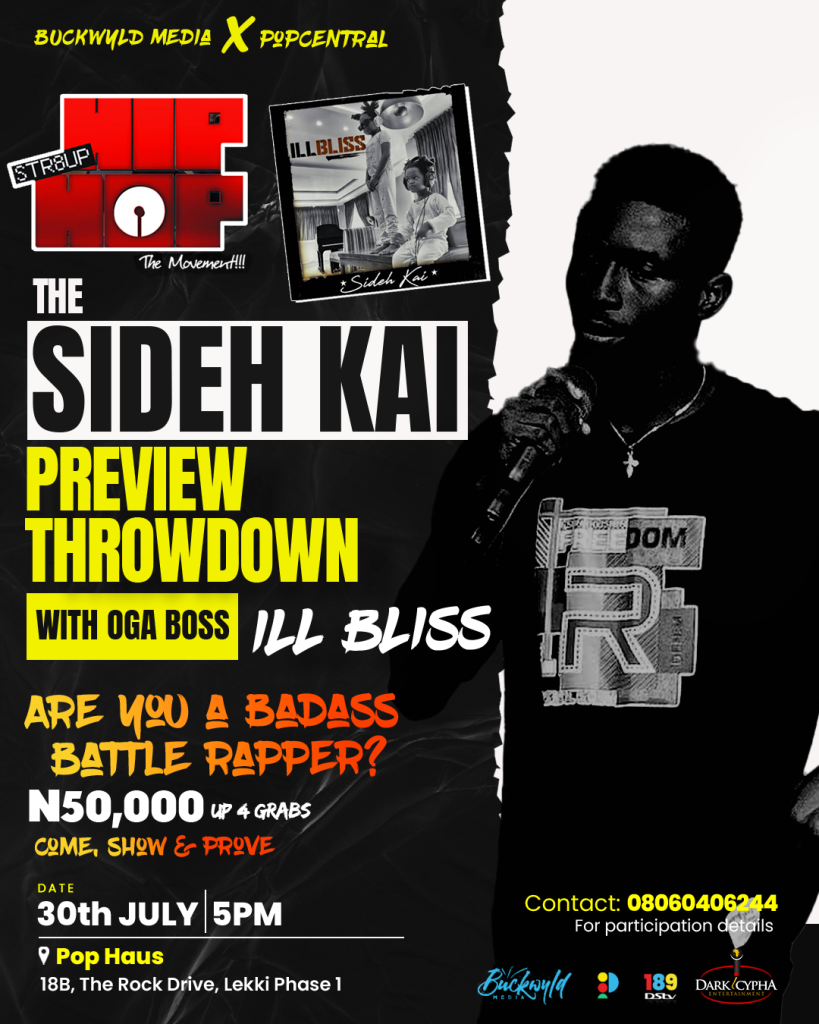 But that's not all. Alongside the exclusive preview of ILL BLISS' much-awaited rap album, Sideh Kai, attendees can look forward to a lineup of incredible events that will keep them on the edge of their seats. The Str8Up HipHop Roundtable will bring together experts who will delve into the hottest topics in the hip-hop scene. Prepare to be amazed by mind-blowing rap battles and captivating B-Boy showdowns, where talented individuals will compete for instant cash prizes. Throughout the event, the atmosphere will be set by the phenomenal skills of our badass DJs, while awe-inspiring graffiti artistry will be on display.
To secure admission, exclusive invitations are required. Visit the Str8up HipHop Instagram page @str8up_Hiphop and click on the link in the bio to receive your invitation. Missing out on this unforgettable experience is not an option, so be sure to claim your spot.
For those interested in sponsoring the event or have any inquiries, please direct message Str8up HipHop on Instagram @Str8up_Hiphop or call 08060406244.
The Sideh Kai Preview Throwdown is a production of Str8up HipHop, brought to you in collaboration with Buckwyld Media, Pop Central, and Dark Cypha Entertainment. The organizers are proud to present this extraordinary event and eagerly anticipate an evening filled with the brilliance of ILL BLISS and the pulsating energy of the hip-hop world. Get ready to be blown away by an unforgettable experience.