With years of experience, Ghana's leading youth creative agency Scripts & Sound organizers of several youth-oriented events and initiatives over the last few years start the year with its newest initiative "HipHop Wednesdays".
As a creative agency that has constantly prided itself in providing nothing short of beautiful experiences within the creative space with its events and initiatives, Scripts and Sound is championing this initiative of creating a space for lovers of hip-hop and its culture with Hip-Hop Wednesdays. The event which is held every Wednesday at Area Bar brings together like-minded people who love and identify with the culture. The event is the first step in creating a community that will spearhead many initiatives that celebrate hip-hop and create opportunities for cultural affiliates.
Each week comes with a different theme that highlights various cultural moments and celebrates individuals who have played a huge role in the growth of hip-hop in Ghana and beyond. So for anyone that loves hip-hop and has an interest in hip-hop culture, Scripts & Sound has created the perfect space for you to experience the culture in Ghana. The Host for this week would be $pacely & DJ Kess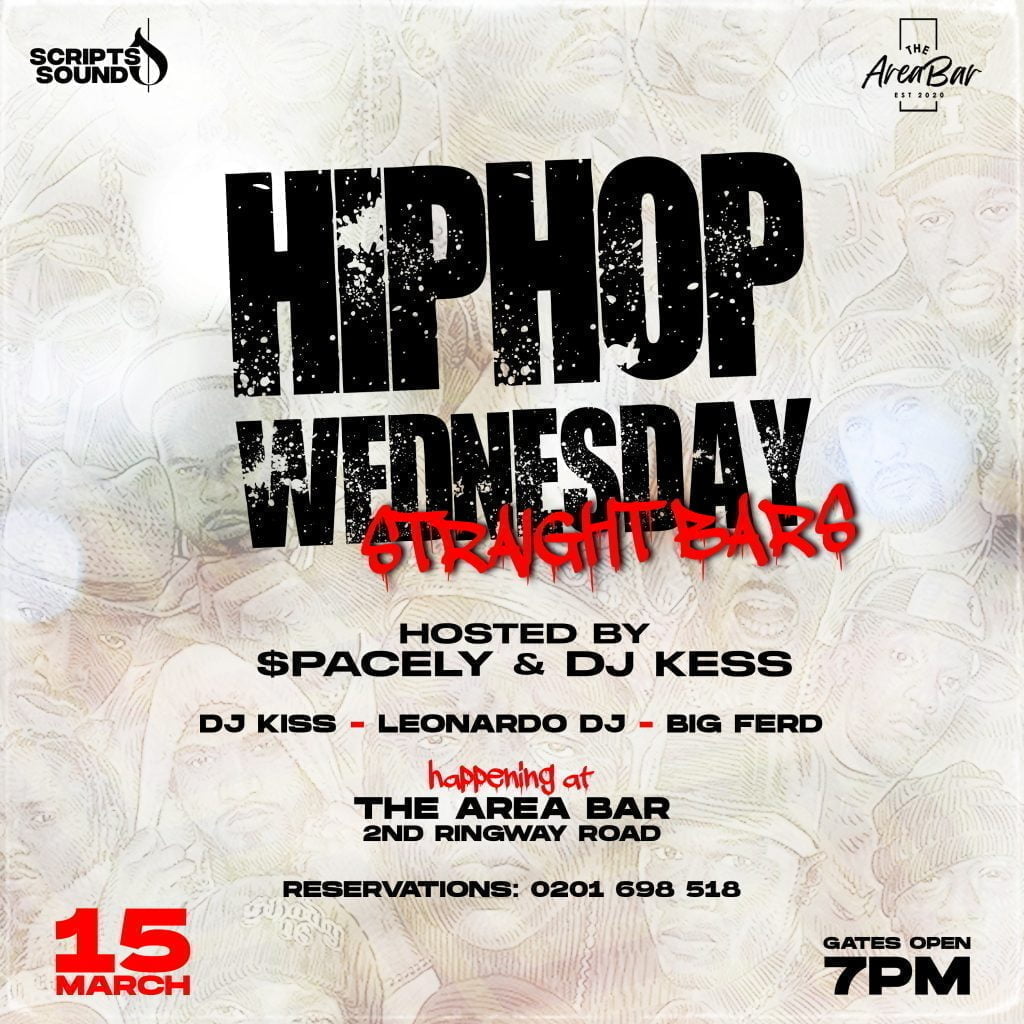 As an entertainment country, Ghana's music scene is highly known for its rap culture. Since the inception of Hip-Life in the late '90s Ghana has seen rap culture grow in sound, fashion, and lifestyle with rappers introducing various hip-hop subgenres over the years. From the days of Hiplife to the hip-hop period in the late 2000s', the trap era, and currently the drill/asakaa period.
At every point, hip-hop and rap have been part of the nation's music exports. Despite the continent and country being affiliated with Afrobeats, one can not deny the role hiplife and by extension, hip-hop has played in the music ecosystem we see right now. As such, there has been a need to create an environment and community where people with interests in rap, hip-hop, and its culture can interact and enjoy the beautiful culture.