Amaarae is wet and flowing. Flowing with bold and audacious statements made with the body more than the mouth. The boundaries for African music, lead by Nigerian Afrobeats and South African Amapiano are constantly moving, and on her sophomore effort , Amaarae pushes them even further. Burna Boy became the first Nigerian act to headline a UK stadium early this month, and Wizkid sold out three consecutive nights at the prestigious O2 Arena last year, amongst other accolades.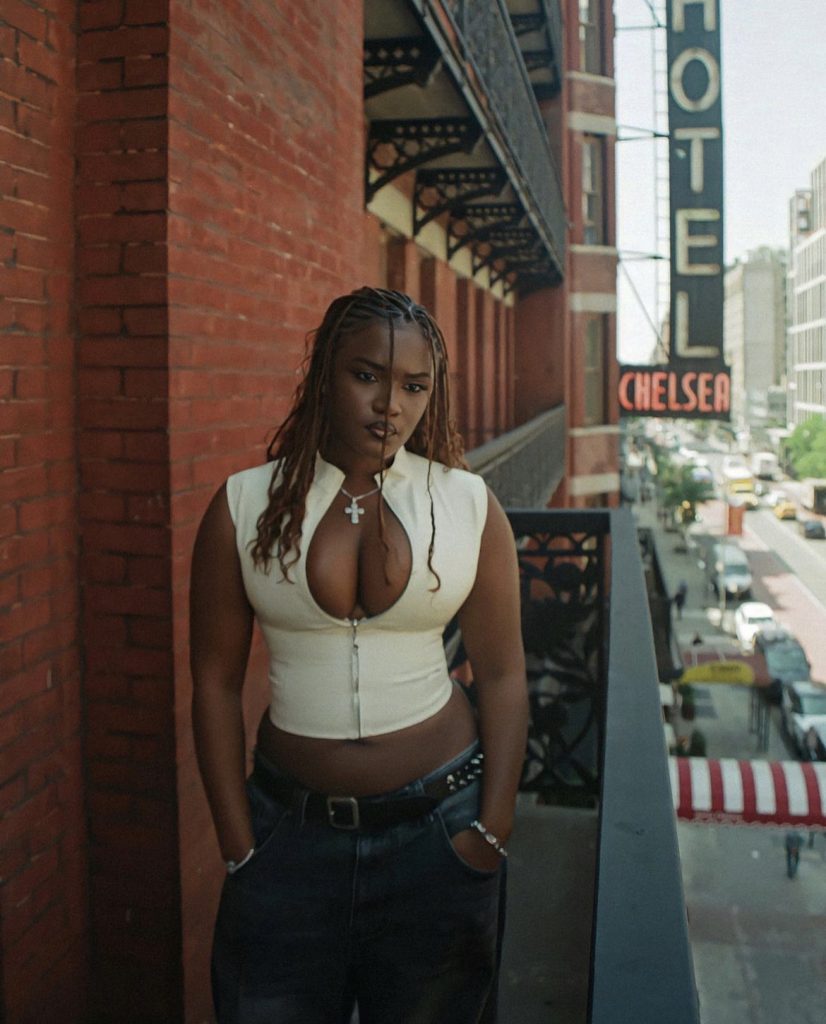 In 2020, the ambitious Atlanta-born and Accra raised Ama Serwah Genfi introduced the world to her dark, mystical but very sexy world on her debut album 'The Angel You Don't Know.'
Before then, ardent followers of the Nigerian Alté community were already familiar with Ama's whispery, classy Alté-pop from her debut mixtape and features and cameos alongside the rest of the Nigerian Alté community.
Released by Interscope Records on June 9, 2023. The album was supported by two pre-released singles, "Reckless & Sweet" and the very Gen-Z-centric "Co-Star". 'Wasted Eyes' accompanied the album on arrival.
If "The Angel You Don't Know' was a dystopian motion picture, 'Fountain Baby' is the Utopian aftermath of neo-tantric, sexual and divine feminine expressionism.
In motion picture fashion, the Cracker Mallo co-produced 'Angels in Tibet' opens the album with Opera style violin lead orchestra composition—after a short prologue-esque intro.
Amaa goes on a search of sexual and feminine freedoms and hedonistic pleasures on most of 'Fountain Baby,' hinted on the cleavage teasing cover art work quite reminiscent of Janelle Monae's mammary glands flashing antics while rolling out 'The Age Of Pleasure.'— This is nevertheless juxtaposed by the singer seeking a lover to take her out of the proverbial "streets" on the counter-titled 'Princess Goes Digital.'
The song plays like a Babyface penned and Toni Braxton performed number from the early 2000s but with a modern day twist, while 'Sex, Violence, Suicide' is as futuristic as Utopia on wax, think Mad Max: Fury Road.
There is nothing more new age than titling a single from the album after a horoscope app, 'Co-Star' housed some of the best writing, most memorable flow and artistic honesty on the album.
There's no way you're Virgo
Cute but far from loyal
Gotta be a Leo
You so fucking spoiled
Maybe you're a Sag
You nag
You nasty
Aries bitches bad
But damn, I'll pass please
Crazy like Aquarius
Text me when you're serious
The song's verses are delivered in a semi-rap, Doja Cat-esque cadence, over an up-tempo, percussion laden instrumental.
Poetic titles like 'Princess Goes Digital,' 'Water From Home,' and 'Come Home To God' are the beacon fro some of the classy degeneracy.
Amaa has always been unapologetic of making music for the world, hence her focus on embracing her American, European and Nigerian audiences, rather than focusing on catering for the local Ghanaian listenership. It is worthy of note that 'Big Steppa,' borrows elements of Hiplife on the instrumentation although the performance is very much Amaa's forté.
'Counterfeit' has some of the most stand out production on the album, if not the best. 2000s R&B pop meets Arabian flutes and West African griot drums as Amaa whispers lyrics about her Hugh Hefner-esque sexcapades but with a lesbian twist, strip club music has never sounded more artistic.
On the very next track, the listener find that all of that is a defence mechanism against unrequited emotions for lovers who like to "love em and leave em," as she sings" you think I'm feeling a way, it's not like you love me, I know you don't love me," on 'Disguise.'
"I wanna party right now," she sings on the songs hook. Day one fans will recognize this of escaping this pattern romantic torture with materialism from 2020's 'Sad Gurlz Luv To Party.'
Ever since her debut on the mainstream scene, Amaarae's sexuality had been a topic of curiosity due to her eccentric fashion choices and lyrics. On 'Fountain Baby the Ghanaian eaves no room for questioning what end of the spectrum she belongs, even though her country is still one of those without legislation to protect people on that end of the sexual spectrum.
Lyrics "like my coffee with some head in the morning," "pussy like Bermuda afternoons" enable neo-tantric sexual fantasies—the sexualization of the divine feminine evident on the religious references metaphorized into sexual statements on 'Come Home To God.'
Alimony Ama closes the album with unforgettable lyrics like:
"Shawty say she love me like she love the Lord
When I'm in that pussy, I'm above the law
If I had the world, I still would end it all
Thousand and one reasons not to get involved
I'ma call my ex and say I love her in the past tense
Drinking from a fountain, she anoint me like a pastor
Triple-winged angel 'bout to turn me to a bastard
Devil doing favors that a nigga never asked for."
On 'Fountain Baby,' Amaarae sets out to take African music to the world, packaged in decoration that make it easily access to the western demography by borrowing a log of western styles due to her globetrotter upbringing, but she still caters to home with Afropop numbers like 'Aquamarine Luvs Ecstacy,' that sound like she took a page off Wizkid's 2020 classic 'Made in Lagos.
HIGHLIGHTS: Strong, poetic, fantasy baring lyrics, genre fusion, sonic experimentation, production, ambitiousness.
LOWLIGHTS: the almost sporadic transitioning of songs
STRONGEST SONG(S): Co-Star, Disguise, Come Home To God
WEAKEST SONG(S): All My Love, sex violence suicide
PRODUCTION: 10
LYRICISM:10
FEATURES: NIL
COHESION:8
TRANSITION: 7
TOTAL: 9.0/10
VERDICT: Replete with nearly unforgettable melodies and bad b***h quotes, 'Fountain Baby is more' accessible and commercially appealing, to a wider array of audiences but it in no way loses the eccentricity and mystery that the artiste is known for since she debuted on the music scene in 2017.
Amaa's artistic shape shifting keeps the album from going stale despite having no features. 'Fountain Baby' is a worthy 'SOS' to 'The Angel You Don't Know's 'Ctrl.' A classic if it stands the taste of time.
If you enjoyed reading this article do not hesitate to share with friends via all social media platforms.