In the dynamic world of hip-hop and battle rap, where authenticity and skill reign supreme, there's a trailblazer who's been shattering stereotypes and pushing the boundaries of what it means to be a female force in these fiercely competitive arenas. Today, we dive into the inspiring journey of Queen Moda, a goddess in the game whose name has become synonymous with resilience, creativity, and empowerment. Join us as we unravel the story of this formidable artist in our exclusive interview. From her initial foray into battle rap to her thoughts on the evolving role of women in hip-hop, Queen Moda takes us on a captivating ride through her world, where strength, self-worth, and unrelenting passion shine brightly.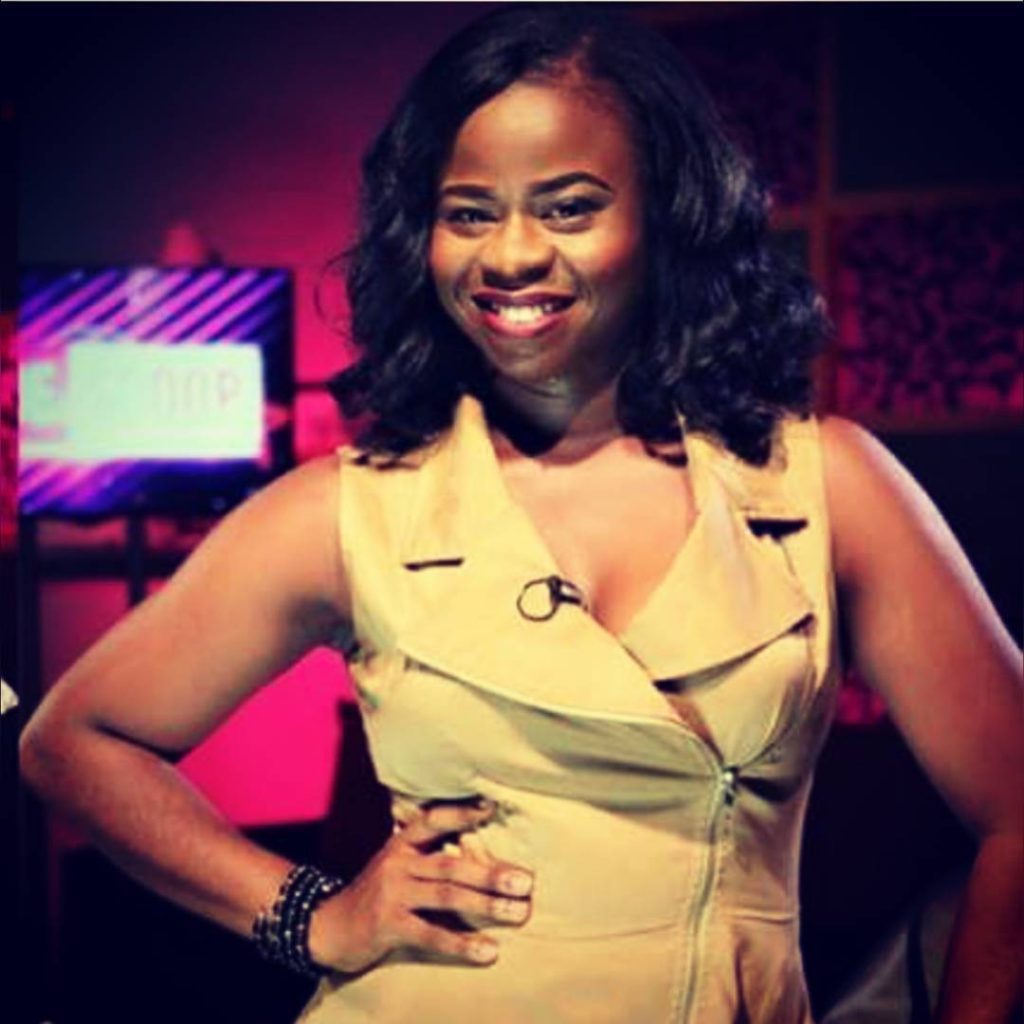 How did you first get into battle rap, and what inspired you to pursue it as a career?
I've always loved rap, so naturally, when I came across some BattleRap Clips from Queen Of The Ring, I was drawn to it. A friend recommended me to BRL (Bars Rap League) in 2017, and the first match for me was set up. I felt a very strong sense of belonging, and the passion for it was intensely ignited. I've been doing it ever since.
As a female battle rapper, what unique challenges and opportunities have you encountered in the industry?
Every opportunity is unique, and I remember them very fondly. Performing before notable legends in the industry during BLOODY TOLL was an uplifting encounter.
For challenges, it's the same as any battle rapper; we all would desire battle rap to be as accepted as mainstream, but we're getting there. As a female, though, there's usually the chance of being underestimated due to gender, but, to God be the glory, the skill set is appreciated when given the opportunity to be expressed.
Can you share some insights into your preparation process for a battle, especially when facing an opponent like Fozter?
Specific prep for a particular opponent is not what some of us like to talk about prior to the battle. LOL. But the usual thing I do is pray before every prep because I'm a firm believer in recognizing the grace it takes to do this. Then I get in the right headspace to write, watch other battles, and get my creative side activated.
What can fans expect from your performance at the upcoming Hip-Hop Event on October 3, 2023?
I'm very excited to be at the Hip-Hop Event again, and fans should expect a classic.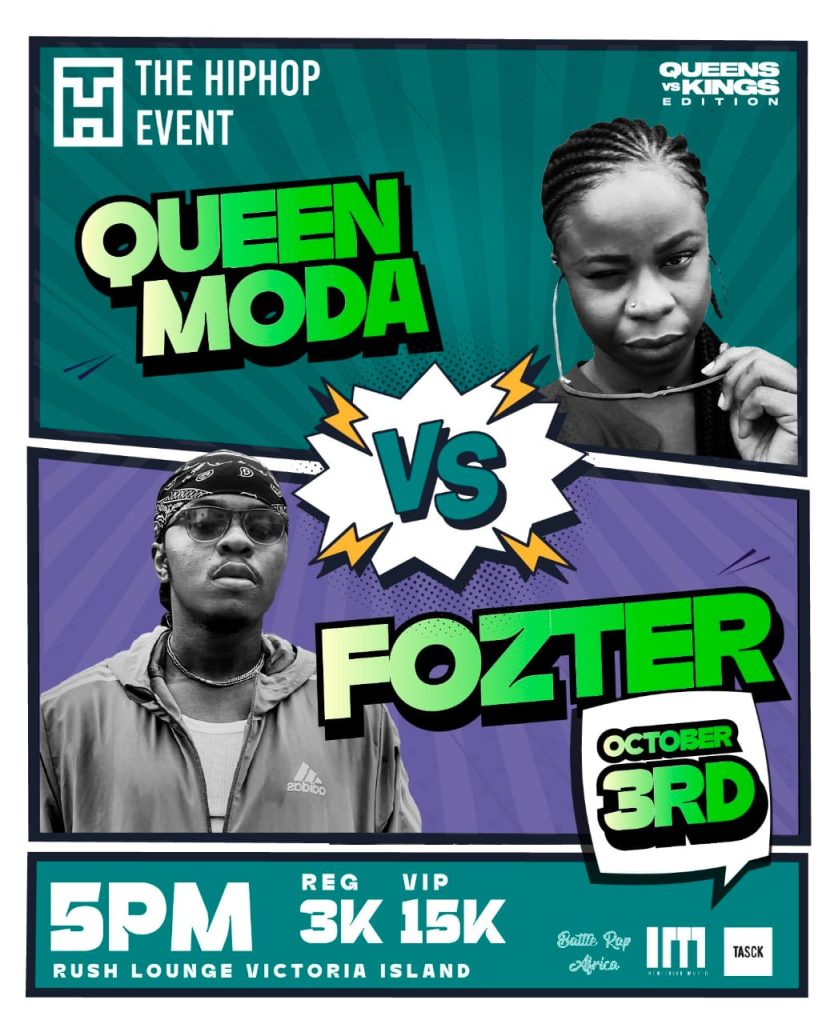 How do you feel about being part of an event that celebrates women's contributions to Hip-Hop?
It is an absolute honour to grace this event. It is uplifting to see women in hip-hop being given well-deserved projection. This is a step in the right direction to achieve some degree of balance between the male and female energy in Nigeria's hip-hop scene. I do hope the momentum grows, and other brands emulate this because much more can be achieved.
Who are some female artists in the Hip-Hop industry that have influenced your style and approach to music?
I respect all our Queens, and each one is unique. That's what's most beautiful about us, and it will be evident at the event. I salute those who paved the way: Weird MC, Sasha P, Queen Change, Blaze, Bouqui, Khemistry, Kel, etc.
Besides battle rap, you're also a radio presenter. How do you balance these two roles in your career?
The correct term is "BROADCASTER," and balancing both careers is no walk in the park. As with every other form of multitasking, it takes grace, time planning, and the right kind of social interaction to feed both sides.
Could you tell us about any upcoming projects or collaborations you're excited about?
For now, plans are still being put together, so it's a bit too early to say what to expect, but there are definitely some projects being worked on that I am very invested in.
In your opinion, how has the Hip-Hop industry evolved in terms of gender diversity over the years?
There are evidently amazing opportunities to explore, especially in the present age of technology, where we have numerous tools that help artists achieve more in less time in terms of content research, creation and spread. We have come a long way to where there's more potential to grow one's brand, put quality material out there, monetize it, and maintain visibility.
What advice would you give to aspiring female artists looking to break into the Hip-Hop scene?
Keep working on your craft and selling your art however best you can. Don't hesitate to explore room for growth, take advantage of any platform available to you.
How do you handle the pressure and nerves that come with performing in front of a live audience?
*Laugh* I just trust in the grace of God, breathe, and do my thing.
Are there any specific themes or messages you aim to convey through your music and battles?
Strength, resilience, and self-worth.
Can you share a memorable moment from your journey as a battle rapper that has had a lasting impact on you?
Every moment has been memorable; it will be hard to pick anyone in particular.
How do you see the role of women in Hip-Hop evolving in the future, and what changes would you like to see?
I would love to see more women get involved in hip-hop, and the industry evolve to where we first give credit to the intelligence, skill set, and quality content of music women make and market that part more instead of their bodies and projecting sexuality as the priority. Both women, the industry, and society play key roles in introducing a healthier narrative.
Lastly, what message or words of empowerment would you like to send to your fans, especially young girls aspiring to make it in the Hip-Hop world?
Hold on very strongly to God, find your difference, and stay true to yourself. Don't give up, be willing to learn, willing to work, and willing to grow. God's grace is sufficient.