Young Cameroon female rapper, Chindo who emerged winner of Tzy Panchak's #fortheculture challenge in 2020 has announced the release of her mixtape titled "SABII"
The 11-track mixtape serves as a reminder that sometimes we all need to stop, look back & appreciate those that have done it before us.
The mixtape drops today, 30th of January 2023. Anticipate!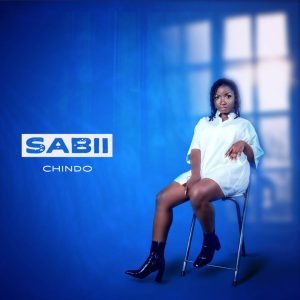 Chindo took to her social media page to express how special the Mixtape was to her and how intentional her choice of artists on the project was.
"Sabii Mixtape is so special and the list of artistes I picked are all intentional. Another list of artistes will be on the part 2 of the mixtape. These are some of the artistes on Sabii mixtape and why I chose them.

1- KROTAL

I respect Krotal for being one of pioneers of Cameroonian Hip Hop. It is thanks to their passion that we are here today. I therefore worked on his song "Vert, Rouge, Jaune" to express my love for my country Cameroon. Same love he had for Cameroon years back. Thank you for inspiring me legend. The title of the song is "Kamer Luv".

2- Jovi

Thanks to Jovi's genius and creativity, we learned what consistency and hardwork is to a Cameroonian artistes. He gave us the hope to believe in the art and he is still among us. I did a freestyle on his "Et P8 Koi" instrumentals and included it on my mixtape. It is titled "Fearless freestyle".

3- Maahlox

Maahlox has been emblematic in Cameroonian Hip Hop too. Though very difficult in Cameroon, Maahlox was among the first rappers to fill the PAPOSY in Cameroon. Also, his outspoken and raw nature as an artistes pushed me to not be afraid to speak my mind. I worked on his "Ça ne rit pas" instrumentals and created "Smirk", which is the 6th song on the mixtape.

4- MI Abaga and @Vector

I Abaga still stands as one of the greatest rappers the African continent ever produced. I respect his wisdom and knowledge of music in general. I was inspired by his song "Money" from the "Talk About It" album. The song is titled "Manna". Vector is also an indisputable lyricist I admire, so I worked on this song because they originally featured together on the song.

5- Other American rappers who inspired me on this project are Drake, Mobb Deep, Lloyd Banks and Tank. Stanley Enow, AKA and many others are on part 2 of the project…

Thank you to all these legends for paving the way for me. I promise not to disappoint you. The "Sabii" mixtape drops on Monday. Thank you for waiting.
SHORT PROFILE
Chindo Prisca Fuam is artistically celebrated as Chindo AKA Rap Angel. Was born and raised in the Northwest region of Cameroon specifically in Boyo Division. She grew up in Ndop and Bamenda. Chindo is a rapper/singer.
She is based in Yaounde where she is furthering her education at the University of Yaounde. She has been doing music ever since she was a child. Her art has been appreciated and welcomed by so many Cameroonians. She was featured in Askia's Bag Series concert which was a talent-driven initiative introduced by her colleague Askia. Chindo is one of the Nicki Minaj Cameroon got so far.
________________________________________________
Have you found this article insightful? Then kindly share and comment your opinions in the comment section below. Thanks.
Daniji Emmanuel is a content writer who has written hundreds of articles on various niches focusing on Entertainment topics. He's also published interviews, conducted research and written opinions on the creative industry. BigDan, fondly called, also consults and handles brand promotions for people and organizations in the creative industry.
Follow On Social Media:
Instagram – https://www.instagram.com/hiphopafricaa/
Twitter – https://twitter.com/Hiphopafricaa
Email – bigdan@hiphopafrica.net