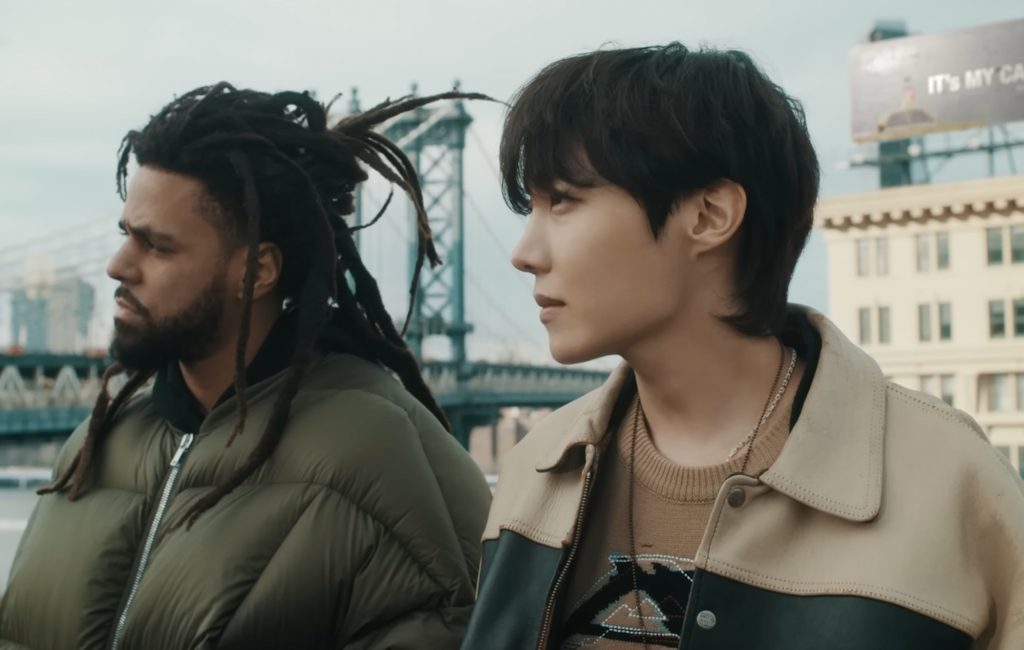 BTS's J-Hope is "on the street," and we're not just talking about his path to mandatory military service. After releasing his first solo album Jack in the Box in July 2022, J-Hope is back with a new solo single featuring J. Cole, his longtime inspiration. BigHit Music previously shared on Weverse that the hip-hop track's title is a reference to J-Hope's artistic roots in street dance. The lo-fi song also serves as a reassuring message to fans who have been by his side. Over the sound of his own easygoing whistling, J-Hope sings, "Every time I walk / Every time I run / Every time I move / As always, for us." Later, he raps that "even my walk was made of your love and your faith."
J. Cole gets several lengthy verses to reflect on his career, which isn't too surprising. After all, J-Hope would never cut his fave off — he called J. Cole his "muse" when they met at Hobipalooza, and previously rapped in 2014 about how much the mixtape Friday Night Lights influenced him. Now, nearly a decade later, he's strolling up to his idol in a music video. We're starting to sense a pattern here, given that fellow BTS member Jin used his last pre-enlistment single as an opportunity to hang out with his beloved Coldplay. Shoot your (musical) shot, boys.
________________________________________________
Have you found this article insightful? Then kindly share and comment your opinions in the comment section below. Thanks.
Follow on Social Media:
Instagram – https://instagram.com/hiphopafricaa/
Twitter – https://twitter.com/Hiphopafricaa
Email – bigdan@hiphopafrica.net