Kellypunchline's debut EP, "TRENCH IN CALI," is a poignant and introspective musical masterpiece that invites listeners into a world where vulnerability meets strength. Through the mesmerizing combination of honest lyricism and captivating melodies, Kellypunchline takes us on a profound journey through her own experiences, allowing us to connect with the raw emotions that underscore her artistry. Every track on "TRENCH IN CALI" serves as a testament to the artist's resilience and unwavering determination to navigate the depths of personal turmoil. From the opening notes, we are enveloped in an atmosphere of introspection, as Kellypunchline fearlessly explores the complexities of life's twists and turns in Melancholy. Her lyrics, infused with raw authenticity, resonate deeply with listeners who have also weathered their own storms, creating an empowering sense of camaraderie.
This EP stands as a beacon of hope, encapsulating the essence of personal growth and the unwavering determination to overcome obstacles. Says Kellypunchline as we had an online interview with the female rapper and entrepreneur.
Your name is Dauda Ubaidat Kelechi where are you from ?
Yes, Enugu state.
Dauda dosent sound like a name from eastern Nigeria, do you have other routes ?
Not exactly. My Dad is an Igbo Muslim. Hence the name. Although my mom is from kaduna state
This is your debut project, have you been releasing music previously and how long have you been making music ?
Yes I have, most especially "singles"(available on audiomack), This is my first ever "Extended play", Been making music for long now Say 10years there about
So where are you based?
Zaria & Abuja
Your EP titled "Trench In Cali", Is that a Place or is there a significance to it ?
Actually it goes both ways- Trench in California (the idea of it all was more of me being in a dark place for a long time I.e "the trench in California". Got my self out of there and i'm doing better with my life now) In a better context
"TRENCH IN CALI" is a direct reflection of my own life experiences and the wide range of emotions I have felt along the way through out my life journey as an artist and as a person.
Tell us your creative process in putting together Trench in Cali and how you got to work with Terry Akpala ?
Oh So, putting together Trench in Cali was such a fun and creative process. It was easy for me to come up with so many ideas because every story told in Trench in cali was my own life story and experiences, I wrote lyrics, and experimented with different sounds to create a perfect vibe with of course the help of my producer Nize. As for working with Terry Apala, it was amazing! We connected through social media and instantly clicked. Terry's unique style and talent brought a whole new dimension to the project. It was a collaborative effort that resulted in something truly special.
Did you travel to record and make music or was it recorded in Abuja ?
Actually all songs were recorded in zaria, kaduna state. Except for "Back from Black" which Terry Apala was featured on. His part was recorded in Lagos.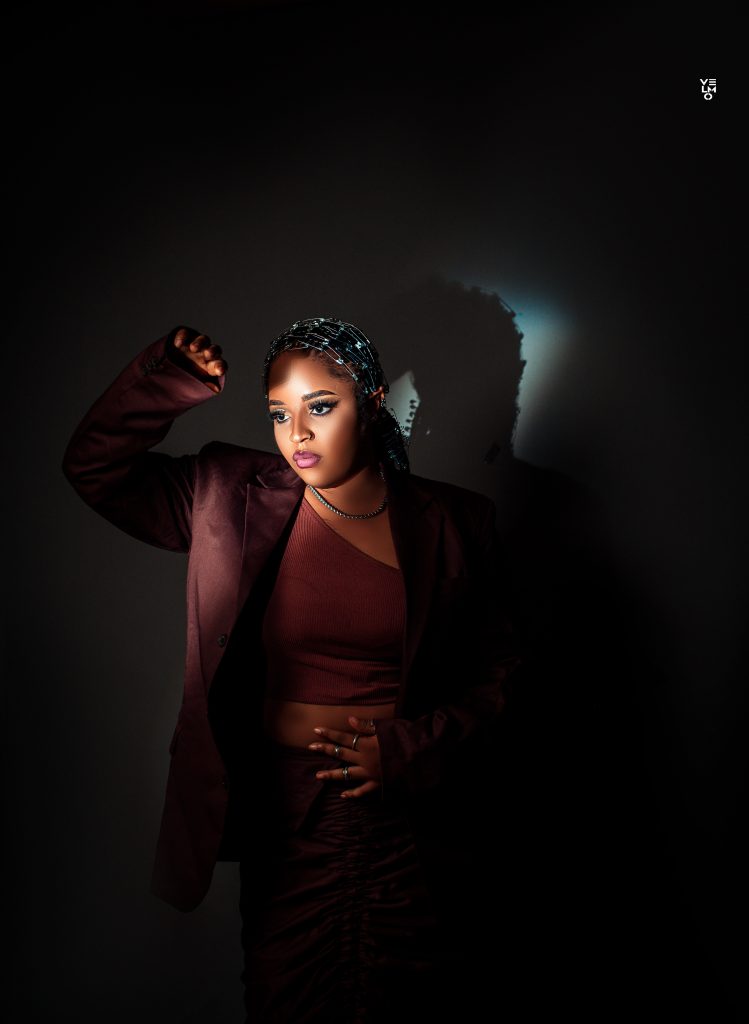 What's your favorite song personally on the project
Wow, this question is very daunting🫢well they're all at once my favorite 😭
But if I am choose one I'd go with "Done Did it"
What do you intend to achieve moving forward from this project ?
Moving forward from this project, my main goal is to continue creating music that resonates with people and brings joy to their lives. I want to explore new sounds, collaborate with talented artists, and keep pushing the boundaries of my creativity. For me It's all about spreading positive vibes and connecting with my audience on a deeper level.
Should we expect any music videos?
Yes, of course, Real soon
What should we expect from Kellypunchline here on?
Moving forward, you can expect more amazing content from Kellypunchline! I will continue to bring the fire with my music, performances, and creative projects. Get ready for catchy beats, relatable lyrics, and a whole lot of fun.
Are you independent or signed to a label ?
Independent actually.
Besides music what else do you do?
I am an entrepreneur, I own an online fashion Accessories store called "Kellysvault Nigeria"
Why hip hop music seeing there are not so many female rappers in Nigeria?
Yeah, you're right that there aren't as many female rappers in Nigeria compared to male rappers. But that doesn't mean we can't change that! It's important to celebrate diversity and give more opportunities for female artists to shine in the hip-hop scene. I love Rap! And I love to think that I was made for this!
Who are your music inspirations ?
Oh, there are so many incredible artists who inspire me! Some of my music inspirations include Eminem, Jcole, Nicki Minaj, Eva Alordiah, and NF, The list could actually go on, I Used to and I still listen to their songs. They've set the bar high, and I aspire to create music that touches people's hearts, just like they do.
What do you think about the state of Nigerian hip hop ?
I think the state of Nigerian hip-hop is vibrant and constantly evolving! There's a lot of talent and creativity in the Nigerian hip-hop scene, with artists pushing boundaries and bringing unique flavors to the genre. The future looks bright, and as we all can see, one thing is certain "Rap is not dead in Nigeria".
Who would you love to collaborate with in the industry ?
This is hard, A lot of them, in no particular order Ladipoe, Blaqbonez, Tems
Burna boy, The list can go on 😭
Lastly why the name Kellypunchline
Started rapping when I was still in secondary school (started with poetry though, I love to write poems) My classmates back then whenever they listen to me rap they'd scream at any part I throw punchlines lol, I think that's how they got the name…And a few of them told me they love how I rap and punchlines so they had to add it to my name.
Stay updated with @kellupunchline_ on instagram