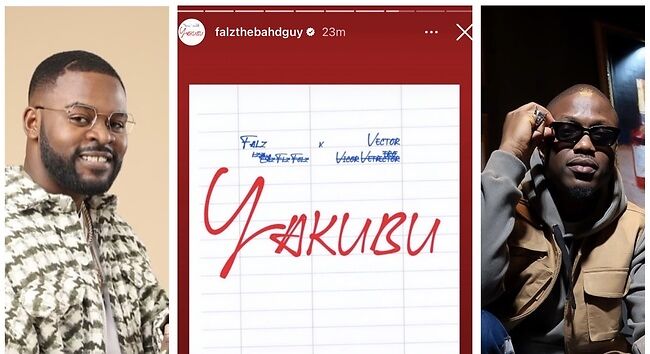 Nigerian rappers Falz and Vector have just dropped a classic. Both rappers who are well known and respected for their charisma and lyrical tendencies decided to come together for a record and it turned out lovely.
"Yakubu", a song released under the Bad Guyz Entertainment Platform sees both rappers flow seamlessly over a jumpy rap beat, addressing the just concluded general election in Nigeria.
Yakubu Explained
On the song, Falz calls out the Nigerian Independence National Electoral Commission Chairman, Mr. Yakubu who was responsible for heading and controlling the process that led to the lots of over 200 million Nigerians' choice of who the country's President should be for the next four years.
Falz also asks what the 300 billion Naira budget for the election was used for, as believes the election was not worth its budget, a view that a lot of Nigerians share.
READ ALSO: OdumoduBlvck Scores Another Top Ten Entry
Falz has always been a very vocal civil rights activist, he has continued to stand up against injustice against Nigerians and is now a notable ambassador for civil rights amongst Nigerians.
Falz who is a barrister himself was a popular Obidient during the recent election. He believes the elections were rigged in the favor of the APC flag bearer, Asiwaju Bola Ahmed Tinubu who was declared by the electoral body as the incoming President of the Federal Republic of Nigeria.
Notorious Nigerian thug, MC Oluomo was also called out by Falz. Falz left no stones unturned, as he also touched on the currency scarcity that rocked the election period, a move that the federal government said was to combat vote buying.
Vector Tha Viper
Vector Tha Viper on the other hand made through his verse explained the distinctions between the personality of the INEC chairman and a former head of state, General Yakubu Gowon, who was Nigerian head of state during the military regime. He also rapped about how the INEC Chairman does not need to carry a gun to oppress.
Generally, the song is a great tune, especially because of its rock slow instrumental, which helps both rappers maintain their usual progressions and cadence on the song.
Falz has a long history of speaking out against corruption and injustice in Nigeria through his music, and "Yakubu" is no exception. The track is a powerful example of the role that music can play in holding powerful politicians against their words when they fail or disappoint does who elected them into office.
The video for the song also emphasizes the situation of the elections carried out in Nigeria. It gives a visual explanation of the song and further amplifies the message being passed through the song.
However, there is also news of both rappers having a joint project on the way. A move that we look forward to seeing. Let's keep enjoying their songs while we await what they have in store for us.