Things are getting hot between South African rapper Cassper Nyovest and Zambian Rap OG Slapdee.
Zambian rapper Slapdee challenged Cassper Nyovest to a boxing match on Tuesday and Cassper Nyovest's clap back was scary.
Following Cassper's disrespectful reply in Slapdee's opinion, the Zambian has asked Cassper to pick a date, place and time for them to fight.
We can't wait for this OG fight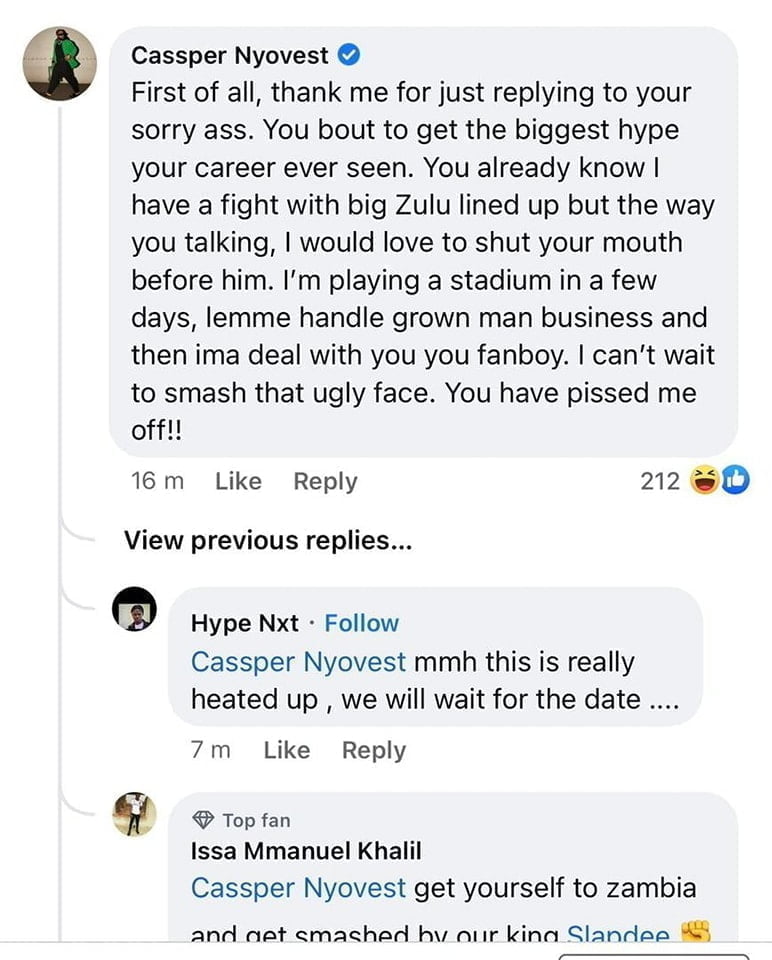 HipHop artiste Slapdee yesterday took social media by storm when he publicly challenged Cassper Nyovest to a boxing match. The KMP rapper who posted a video of him training in a boxing ring managed to get the attention of the South African rapper who responded.
According to his Facebook post, King Dizzo means business with the boxing Challenge. Cassper Nyovest who later responded in the comment section of Slapdee's post threatened to 'whoop his ass' and also told him to 'calm down'. It's not yet clear if a boxing match between the 2 will come to light or if it's just social media clout.
Cassper Nyovest has been involved in 3 Celebrity Boxing matches in his country which he won 3. He has also been the initiator of the matches by calling on fellow Celebs to Challenge him. He won the matches against Slick Talk earlier this year and also Priddy Ugly a few weeks ago and lost to Naak MusiQ.
________________________________________________
Have you found this article insightful? Then kindly share and comment your opinions in the comment section below. Thanks.
Follow On Social Media:
Instagram – https://instagram.com/iam_bigdan
Twitter – https://twitter.com/iam_bigdan
WhatsApp: https://wa.me/message/25R7LQMJIZL5A1
Email – bigdan@hiphopafrica.net