Are you ready to be thrilled and wowed by the true spirit of Hip-hop? Get ready for an epic night on the 30th of August 2022, as "DayGenius" of Battle Rap Africa and TASCK Creatives present to you #OccupyTheThrone.
Battle Rap bring together rappers who want to express their talent by confronting others, aiming to judge their artistry and establish their own reputation. This format highlights some of the foundations of hip-hop, including exceeding your limits and healthy competition among rivals.
This edition is not just a Battle Rap event but is well-packed with Hip-Hop performances from some of the dopest names in the game – PG BLAO, LAUDA, OG SWAGG, SKNNY, MO GUNZ, GENESYS, SOSA TTW, VRSD, BIG C, SAMVSTHEKIDS. As well as a Cypher & Freestyle by PDSTRN (Hennessy VS Class Winner 2022) and MEJI.
"The concept behind #OccupyTheThrone is a gathering of young talented Nigerians to 'Occupy The Throne' and make a change by participating in the forthcoming elections, as well as sensitizing the masses using Hip-Hop as a tool" as revealed by one of the organizers.
Check out the artwork below to see the list of rappers who would be facing off. It's sure to be fire!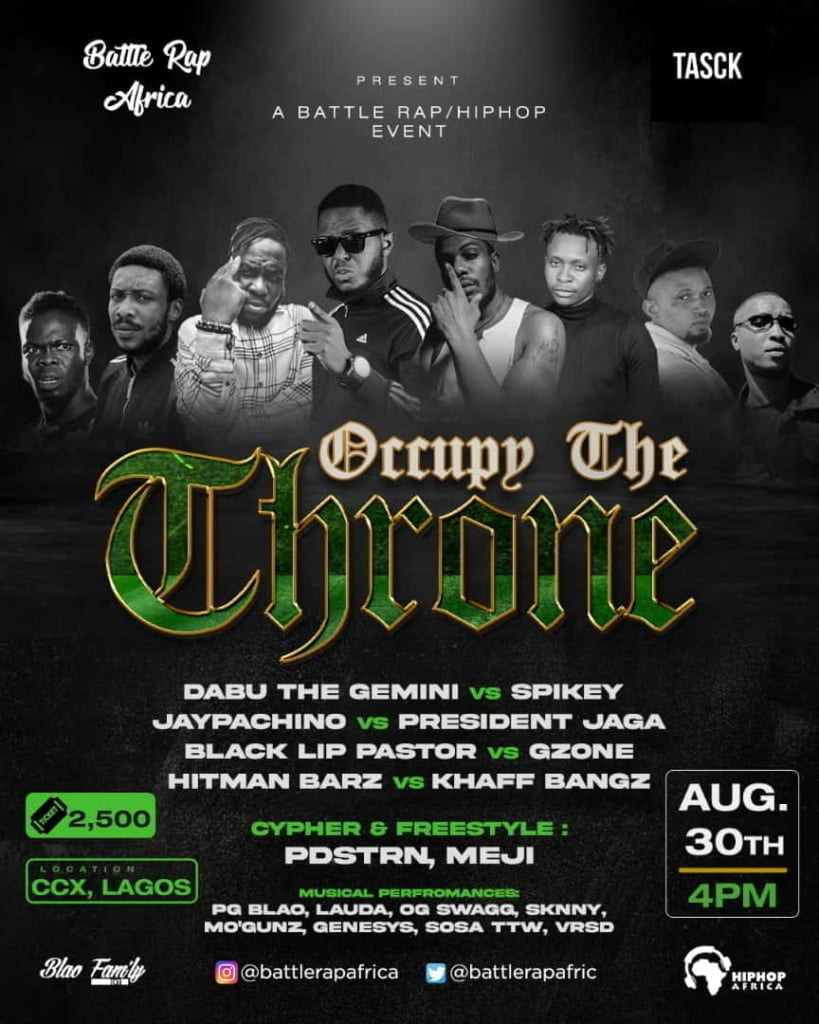 Say hello to the venue for #OccupytheThrone
All roads lead to CCX Lagos, 273 Kofo Abayomi St, Victoria Island, Lagos.
Save the date: Tuesday, 30th August
Time: 4 PM
Ticket: N2,500
Dress code: Strictly Hip-Hop
Don't miss this historic event. Send a DM to get tickets now.
You can buy a regular ticket for OCCUPY THE THRONE using the pocket app.
DOWNLOAD pocket app and search for @battlerapafrica shop or
you can send a DM to @BattleRapAfrica on Instagram or @BattleRapAfric on Twitter.

This event is proudly supported by BLAO FAMILY. Official Media Partner: HIPHOPAFRICA & HIPHOPAFRICARADIO
________________________________________________
Have you found this article insightful? Then kindly share and comment your opinions in the comment section below. Thanks.
Follow On Social Media:
Instagram – https://instagram.com/iam_bigdan
Twitter – https://twitter.com/iam_bigdan
Email – bigdan@hiphopafrica.net