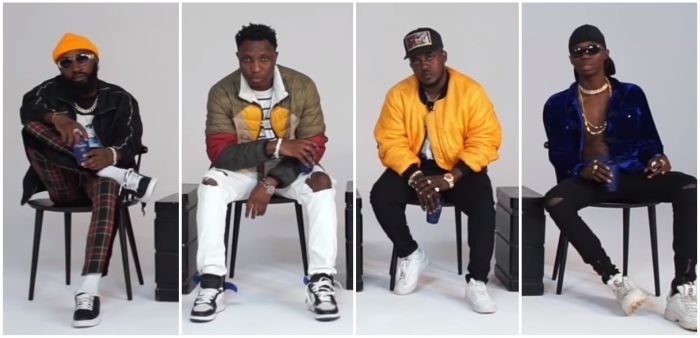 It's no doubt that the Nigerian music industry is the biggest in Africa, by a majority this record and success are made possible by the popstars on the scene. However, the Nigerian hip-hop scene has continued to enjoy the support of some major powerhouses.
The sad truth, although the fact remains that Nigerian rap artists only enjoy a little number of dedicated fan support and only a few of these rappers, can boast of having a true or even recognizable fanbase.
However, there has been a few continuous powerhouses which to a long extent have continued to be dedicated to the course of pushing the Nigerian rap scene to a greater height.
THE HENNESSY ARTISTRY & MARTELL CYPHER.
The popular Hennessy artistry cypher has always been more than just a cypher, it has been the most talked about event in the Nigerian rap scene every year, for a very long time. The cypher which was first introduced in 2007 has now gone ahead to help countless Nigerians showcase their talent.
The cypher has served as a threshold for promoting underground stars for a long time and even now, the likes of Reminisce, Oladips, Vector Tha Viper, M.I, YCee, Falz, Dremo, Psycho YP and others have all participated in this popular cypher at various points in their career. Although the most regular stars on the show are M.I and Vector.
Martell Cypher is another big powerhouse that has continued to support the Nigerian rap scene for years. The Cypher just like the Hennessy cypher has helped uncover many talents and has also put a lot of talent in a better stage of their career.
The contributions of this two have been worth more than Gold to this genre of Music in Nigeria.
It is also important to stress that although this internationally recognized has been committed to putting Nigerian Hip-hop music on everyone's face. It however still endorses the singers in Nigeria as its ambassador, a good business tactic it is. Why is that? It is due to the fact that Nigerian rappers do not possess as much influence as singers.
READ ALSO: Flvme Talks Growth, Goals, and GOATS In The Modern Man Podcast
The recently finished 2023 Hennessy cypher marked a historical turn in the history of the cypher, not only did the cypher feature some of the biggest names in the Nigerian rap scene, but it also featured M.anifest from Ghana, Areece from South Africa and Octopizzoo from Kenya. Nigeria was well respected by two of the legends, Vector and M.I.
The cypher was talked about all over social media and enjoyed a remarkable level of acceptance by Nigerians and the Hip-hop community as well.
More stakeholder investors like these two will definitely help promote the hip-hop culture in Nigeria even further. While we look forward to what the future of the industry is, we also hope that more stakeholder investors come along.