Street-hop sensation Portable has returned with another single in which he addresses the desire for wealth in his quintessential style.
Nigerian singer-songwriter and music star, Portable, comes through with a new single which is titled "Kuku Do Ritual".
The well-enchanted song serves as Portable's latest entry this year following previously released songs.
Song Title: Kuku Do Ritual
Genre: Street-hop
Date of Release: January 20, 2022
Producer: Omega
Song Art: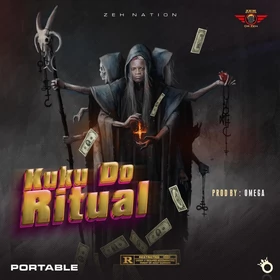 Length: 3 minutes 56 seconds
Features: NONE
Label: Zeh Nation
Details/Takeaway: Portable returns with a new single in which he addresses those with an insatiable appetite for wealth. He uses his quintessential crude lyrics, coarse vocals, and rustic beat to convey his thoughts.
Stream Song Below:
________________________________________________
Have you found this article insightful? Then kindly share and comment your opinions in the comment section below. Thanks.
Follow On Social Media:
Instagram – https://www.instagram.com/hiphopafricaa/
Twitter – https://twitter.com/Hiphopafricaa
Email – bigdan@hiphopafrica.net