The new single, "Ice Cream," is Falz's second release of the year, after the amapiano collaboration "Oga." It is also a stepping stone to his next project, which will be released before the end of the year.
Falz comes through with his trade-mark silky smooth delivery on ICE CREAM, while pleasantly pulling out some slightly uncharacteristic risque lyrics, Blended perfectly with a uniquely delivered sugar-laced hook by Buju.
BNXN opens Ice cream and it is definitely not a bad call .
Ice Cream sounds like a good song with hit maker written all over it.
BNXN's delivery on Ice cream could have been quite better.
Because not only did he open Ice cream, he is the only one with vocals on Ice cream.
The delivery could have made Ice cream sound more interesting as it began.
So what was needed was that BNXN delivered his verse with more energy and passion.
Falz nails his delivery on Ice cream, and this is what makes Ice Cream even more interesting to listen to.
BNXN lyrics on Ice Cream are actually intriguing when you listen to.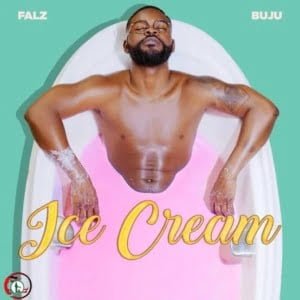 Falz delivers his lyrics on Ice Cream with such professionalism.
He has always known how to deliver the lyrics of a bad guy and this is what he did exactly with his lyrics on Ice Cream.
The production on ice Cream is almost perfect for the song.
It is so suitable for Ice cream because Ice cream does not need beats that will make it sound watered down.
Obviously, with the song lyrics and theme, it is obvious Falz and BNXN are the playboys who want no intimacy with women but only to gratify their desires.
They just want to play around because they are Ice Creams, you can't have them permanently because you enjoy it for a period of time and it finishes.