Just a week after landing a sport in the Canadian Elite Basketball League, shooting stars, as a point guard, North Carolina rapper, J.Cole was spotted with Canadian megastar, Drake, on what looked very much like a music video set. The news has expectedly spread like wildfire, and all of the hip-hop world is now on alert for a possible new collaboration between the two GOATS.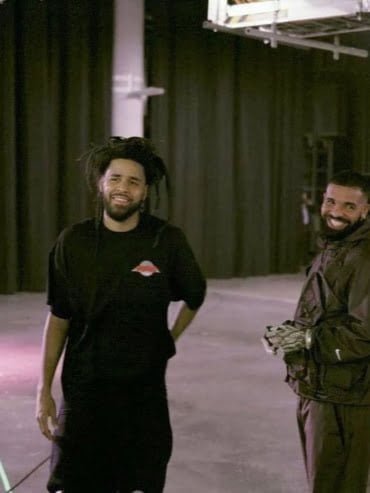 However, rumours state that Cole was just a guest on a Drake video set, as opposed to a music collaboration between the two, as spotted by a Twitter user.
Fans have reignited the assertions that the two GOATS, considered the greatest of their generation alongside Kendrick Lamar, are avoiding a lyrical altercation.
They're ducking each other…

Kendrick – J. Cole – Drake – Years Since they were on wax together

9.6 yrs – Drake x Kendrick (Fckin Problems – 2012)
8.9 yrs – Drake x J. Cole (Jodeci Freestyle – 2013)
2.9 yrs – Kendrick x J. Cole (Under the Sun – 2019)

— Hip Hop By The Numbers (@HipHopNumbers) May 30, 2022
The three emcees have never appeared on a song together, Kendrick and Cole have only been on three official songs in more than a decade of their reign.
On the other hand, Drake and Cole have been on two official songs together, 2011's 'In the Morning,' and 2013's 'Jodeci Freestyle.'
Drake tapped the 'No Role Models' rapper as a supporting act for his 2018 Assassination Vacation Tour, 2016 Summer Sixteen Tour, and Austin City Limits Festival and Cole brought out Drake on the offseason Tour opening night in 2021, after giving him a shout out on his song 'Heavens's EP.'
Never in these last nine years, has there been an official collaboration between both artists, fans are excited for this one if a collab comes out of it.
If you enjoyed reading this article, do not hesitate to share with friends via all social media platforms.