In the vibrant realm where fashion and music intertwine, there exists an artist who dares to defy conventions and craft her unique path to stardom. Meet GNeric, a multi-talented force hailing from Nigeria, where she seamlessly melds her skills as a fashion designer and rapper into a mesmerizing art form. In this exclusive interview, GNeric opens up about her journey, inspirations, and the intricacies of balancing two worlds that are both her canvas and stage. Join us as we dive deep into the soulful synergy of fashion and hip-hop, and discover the remarkable story of GNeric, the artist who is set to make history.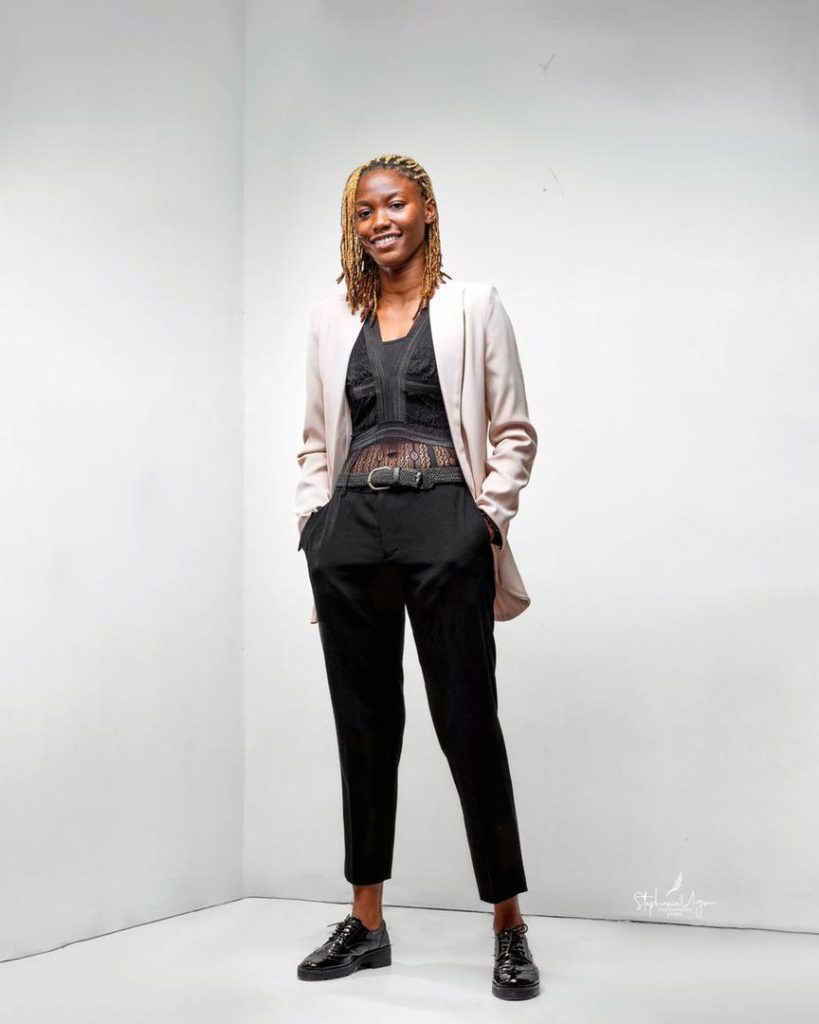 How did you come up with the stage name GNeric?
Well, the capitalized G stands for my name Gladys, and I'm not one to be boxed in, so yeah, that's why the name GNeric.
Can you tell us about your journey into fashion design and how it intersects with your music career?
Fashion has always been my way of expressing myself; the intersection between music and fashion is art; they are both art and are both a means of expression for me.
What inspired you to pursue a career in both fashion and music?
My emotion is my inspiration, and the strong desire to let it be known to as many as possible that can connect is what drives me to pursue music and fashion.
How do you balance your roles as a fashion designer and a rapper?
They both come naturally, so I have never struggled to find a balance; I get ideas to rap when I sew.
Could you share some of your musical influences and how they've shaped your style?
Fireboy, Dax, and Phora; I love how they are able to tell their pains, sorrow, laughter, and struggles through their songs. Each of them possesses a unique style of lyricism and expression that has helped me delve more into myself and let it out.
What are your thoughts on being a part of an event celebrating women in the Hip-Hop industry in Nigeria?
It feels good to be a part of something that spotlights women in the industry because I feel like that part of the culture does not get as much recognition as it deserves. The hip-hop event holding an event celebrating women is amazing, and I am happy to be a part of this history.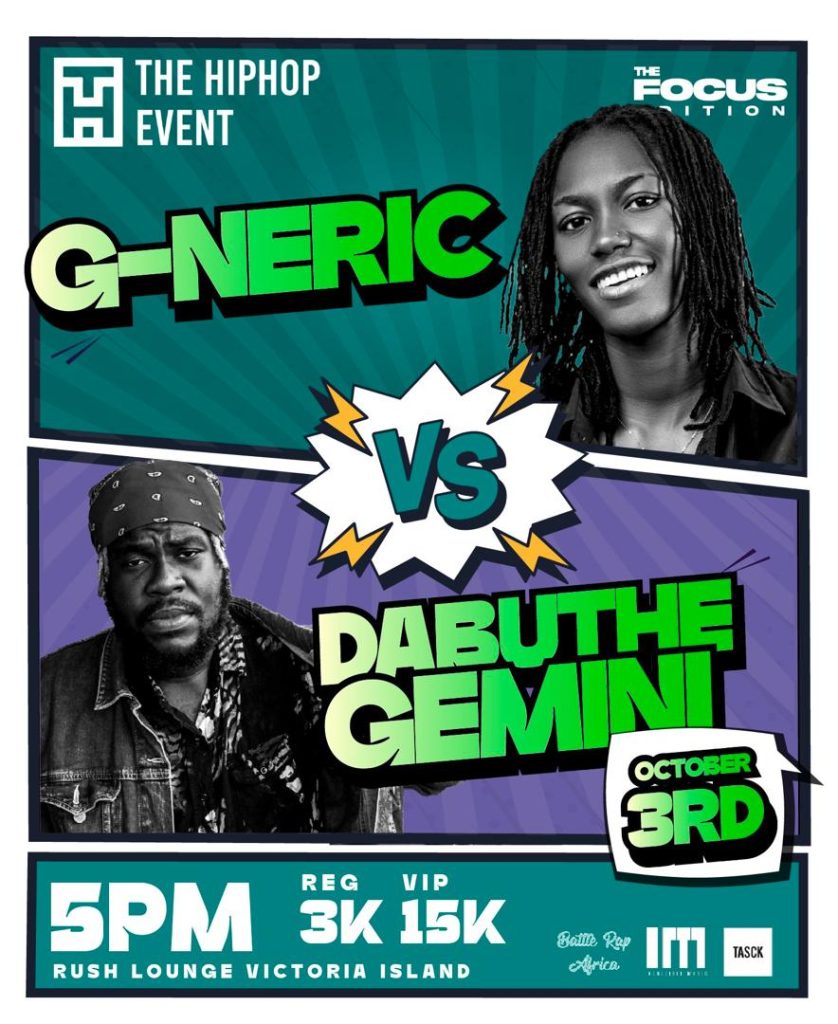 How do you prepare for a rap battle like the one against Dabu The Gemini?
I have faced battle rappers who are kings in their own stead, but this is the first time I am battling an OG in the game, and prepping for him has been good.
Can you give us a glimpse into your creative process when writing rap lyrics?
Well, there's nothing much to see; my mind is my own workshop, and it is my idol.
Are there any female rappers who have had a significant impact on your career?
Che noir, Eva Alordiah; I like the fact that she still makes music and is more concerned about passing her message to the people who are ready to connect to her energy.
What message or themes do you aim to convey through your music?
Personality, life, the struggles that come with being who you are, and one's ability to navigate through the hurdles of it all while holding close the people you love and also addressing matters in society.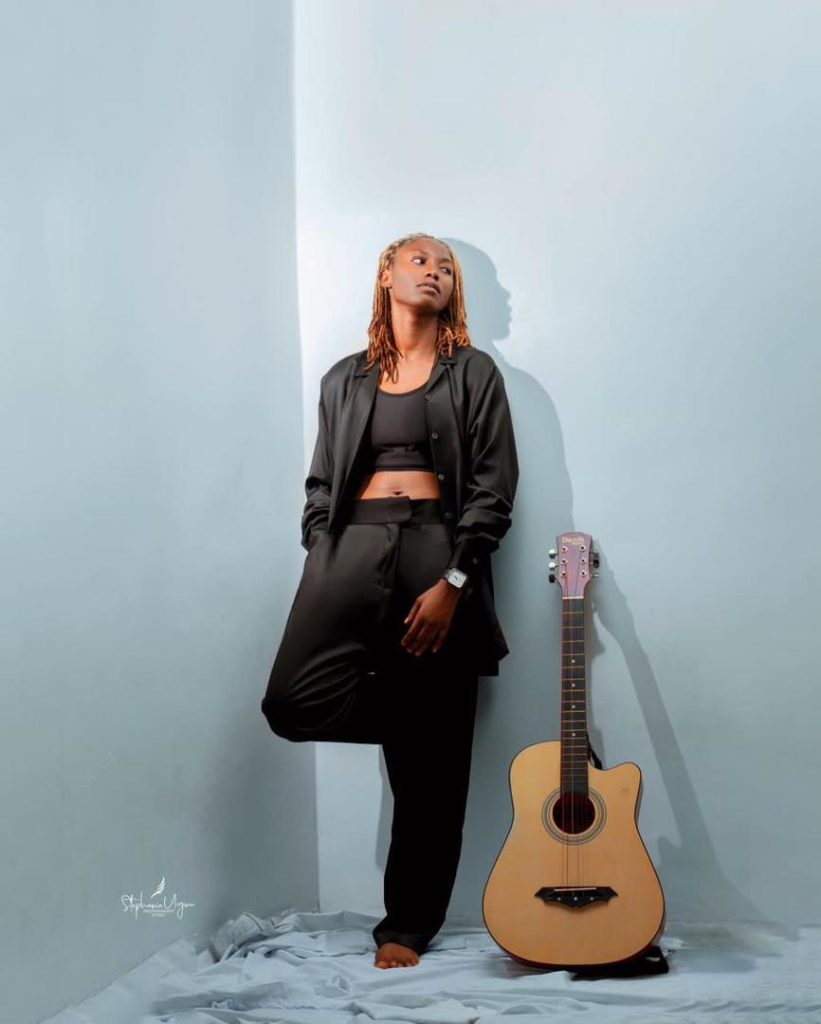 How do you see the relationship between fashion and hip-hop culture evolving in Nigeria?
There are barely Hip-Hop-themed fashion events held in the country, and I feel like the street-wear (Hip-hop) side of things needs more attention as regards shows. But street-wear is a norm for almost the entire population of Nigeria, including Afro-beats artists; everyone wears Hip-Hop without giving the culture its due accolades.
Could you share some memorable moments from your journey as a female rapper and fashion designer?
Getting styled by the brand (Colours & Gene) and rocking the fits to events; everyone gets thrilled knowing I'm wearing my brand.
What advice do you have for aspiring female artists looking to break into the hip-hop industry?
We are not in our numbers, so you have a 100% chance at making it big in Nigeria; just stay consistent.
How do you stay motivated and overcome challenges in your career?
I sleep the down days out and continue.
What can the audience expect from your performance in the October edition of the HipHop event?
A stellar performance as my introduction to a new audience as they say first impressions matter.
Are there any specific causes or issues you're passionate about that you address in your music?
No specifics; it all depends on how I'm feeling about anything happening in my life. Sometimes I talk about the devastated state we find ourselves in the country.
Can you tell us about any upcoming fashion collections or music projects you're working on?
Colours & Gene is working on a collection soon to grace the market. We are looking to collaborate with other artists as well as we are focused on enhancing artists' brands. We are presently styling 88vibes; if you don't know them, check out their music; they had a song with Psycho Yp in their last EP too. As for music, I've got some in the works.
How important is it for you to use your platform to inspire and empower other women in hip-hop and fashion?
It is very important to me because as a woman in this field, I know what it's like. I am dedicated to achieving my goals so that others can see that anything is possible regardless of gender. Hip-Hop is a male-dominated culture, but women are not excluded, and we should not cower but let ourselves be known and seen at every opportunity.
What's the most significant lesson you've learned in your journey as GNeric?
People come, people go. L's are a part of life, and unlearning is part of learning.
How can your fans and supporters best engage with your work and stay updated on your projects?
Well, everyone can reach the brand on IG – @coloursngene_styles for our latest fashion trends and collections, get styled by us or purchase an outfit to support the brand.
For more about Gneric, my music, and my battle rap persona, you can follow me on all social media platforms – @gnericvibes.