Late last month Shabzi Madaliion shared that he was the new member of the Sportscene family. To certify the partnership to the public's attention the brand's online blog shared an article about him discussing everything from his journey as a musician to collaborations and future plans.
Here's a few questions he answered.
Who are your favorite local acts – those who have already made it and those who are still up-and-coming?
My favourite mainstream acts are Sjava, Shekhinah, Tumi, Anatii, Black Coffee and my favourite up-and-coming acts are One Shaman, Nandile Ndamase, Sipho The Gift, HMz the Greatest and Payseen.
Do you prefer collaboration or are you a lone wolf? If yes, then who would you collab with?
I'm a lion, not a wolf! I love collaboration especially when it's organic and almost seamless. I've had the privilege to collaborate with great artists I respect. Besides all the ones I've worked with, these are the others I have major respect for (as far as the craft is concerned) I would love to work with one way or the other;
– Shekhinah, Sjava, Dj PH, Zethu Mashika, Nelz, Anatii, Focalistic, PDotO, ShoMadjozi and Msaki
– Oswin Benjamin, Little Simz, Nick Grant, Blitz the Ambassador
There are way too many artists I'd love to work with at some point in my career, artists who approach their craft with much respect.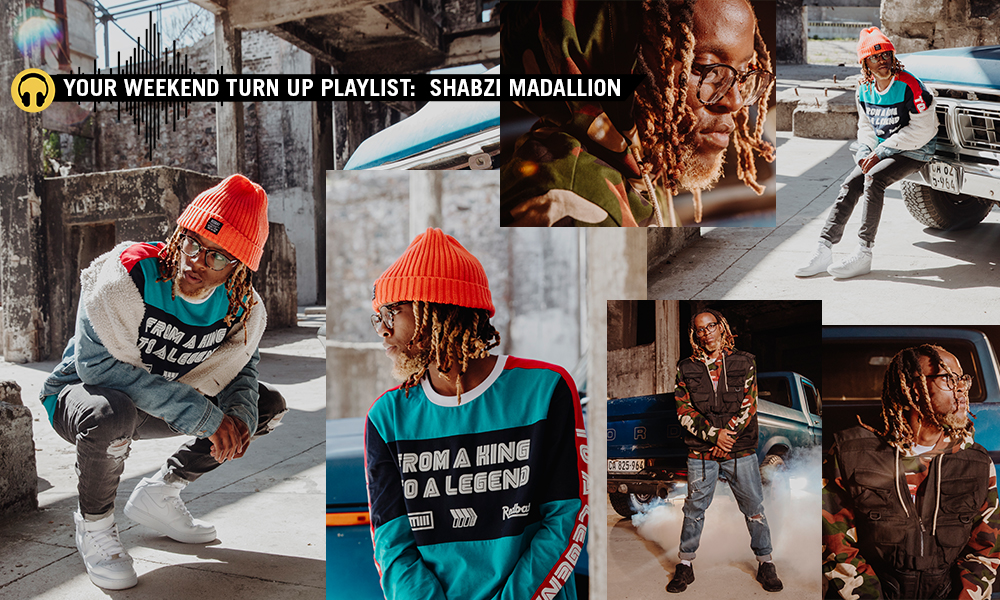 What's next for ShabZi Madallion?
Pushing my new single, "We On Fire" and finishing my debut commercial album, "Nomvula" named after my Mother. I'm really excited about that as it won't sound anything like you've heard before, lots of inspiration from a lot of things and people but it's definitely a side to me people haven't experienced yet.
You're in Redbat's latest campaign "Urbanite". Did you think you'd ever get into modelling?
Honestly I've never thought I'd get into it at this level but if I think about it I used to model when I was a toddler.
Back in primary school I used to be part of a lot of extra mural activities, one of them being 'runway modelling'. I later, in 2016, got myself into photographic modelling through an agent I auditioned to be a part of and now I get sent out to audition for different photo-shoots and commercials.
I've since been featured in a few commercials and on top of that I do a lot of my own photo-shoots with the brothers I mentioned above (Nicki and Big Time) to help build the visual presence of my brand so I've had a lot of practice. Being a part of Redbat's latest campaign was truly fun for me and I think this is the adventure that's allowed me to finally look at myself as a model.