Cassper Clapsback At A Fan Saying He Should Help The Needy! Being a celebrity has its advantages and disadvantages as your life is constantly in the public.
Cassper recently went on Twitter sharing his goals with his fans. The rapper said that he is trying to create his own lane and become SA Hip Hop's first Billionaire.
After tweeting this, a fan went on to respond to Cassper's tweet telling the rapper that he should humble himself and give back to those who are in need reminding him of the fact he himself was once homeless. Cassper saw the tweet and was not having it and instantly clapped back at the comment.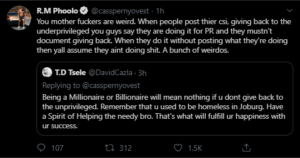 The rapper has on occasions gone public with his charitable works like back in 2016 when he helped the students at WITS University by donating R50,000. He then reportedly donated R100,000 to a student at the University of Limpopo to help then on a project they were working on to pay their fees.